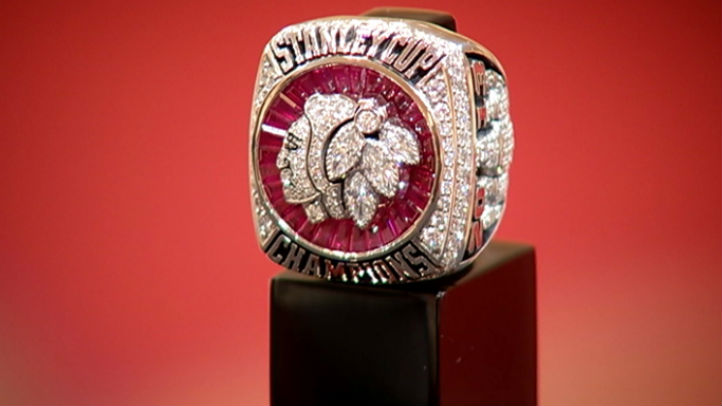 On Sunday night, the Chicago Blackhawks held a private ceremony to present the team and the front office staff with their Stanley Cup championship rings.
The rings, which were designed by Jostens, are totally awe-inspiring, and the Hawks' Instagram feed has a picture of both the front of Jonathan Toews' ring:
And also one of the inside of it:
Here is what the press release issued by Jostens had to say about the jewelry:
"The side design features seven baguette-cut rubies and two pear-shaped emeralds set in the shape of the Blackhawks' secondary logo. This emblem is set against the background of a "C" formed in yellow gold and yellow diamonds. Each ring is personalized with a championship team member's name and respective number against an antique black background.
"The opposite side features five diamond-studded Stanley Cup trophies. Each one represents a championship title, and includes the years in which they were won, including 1934, 1938, 1961, 2010, and 2013.
"Intricate arboring on the inside of each player's ring adds to the distinctive design, featuring the team's motto: "One Goal," and the playoff series score. The total weight of the championship ring is 93.0 grams and includes 260 diamonds and gemstones totaling approximately 14.68 carats."
The rings feature nearly 50% fewer diamonds than the 2010 version, which had 404 diamonds and gemstones. The 2013 ring does feature nearly double the number of carats, however, with the 2010 ring only having approximately 8 carats worth of stones.
Didn't get a ring in Sunday's ceremony? Don't fret, because the Blackhawks will be giving out replica championship rings at their November 14th game against the Phoenix Coyotes at the United Center, although it's safe to say they won't be quite as spectacular as these bad boys.