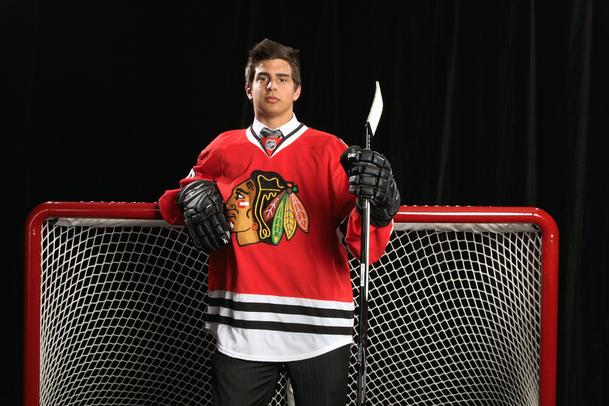 The Chicago Blackhawks made a roster move after Friday night's game against the New York Islanders, recalling center Brandon Pirri from the Rockford IceHogs and sending down forward Jimmy Hayes to make room on the 23-man roster.
The move doesn't come as much of a surprise, as Hayes hasn't been getting minutes with Ben Smith and Joakim Nordstrom more fully entrenching themselves in roles in the Hawks' lineup. Smith has seemingly found a niche on the team's fourth line, while Nordstrom not only saw time at fourth line center on Friday, but he also played the center spot on the third line with Marcus Kruger and Bryan Bickell on his wings.
As for a more immediate reason to bring Pirri up, the Hawks could be looking at him to ascend full time to the second line center role. Head coach Joel Quenneville had Michal Handzus start the year at that spot, but over the past few games, Quenneville has been tinkering with Handzus in a more reasonable role on the fourth line, with Andrew Shaw and Kruger alternating time on the second line with Patrick Sharp and Marian Hossa.
Logically then, here is how the lines might look for the Hawks on Saturday night if Pirri ends up cracking the lineup:
Saad-Toews-Kane
Sharp-Pirri-Hossa
Bickell-Shaw-Kruger
Bollig-Handzus-Nordstrom
It is definitely possible that Quenneville could swap Kruger and Nordstrom between the third and fourth lines, but those aren't the only changes to his configurations that have caught the attention of Hawks scribes and fans. Brandon Saad was put on the top line on Friday night, and also ascended to the top power play grouping along with Patrick Kane and Jonathan Toews, and he made a noticeable impact on both their puck possession time and their quality of scoring chances.
Meanwhile, the struggling Bryan Bickell might thrive from a chance to return to his roots as a guy who can mix scoring touch with physicality, something that he hasn't really been showing lately. After Friday's game, Bickell only has one assist and five hits on the season, and a return to the third line could prove beneficial in both of those areas.
We'll have more information on the Hawks' actual plans once we hear from Quenneville later today.