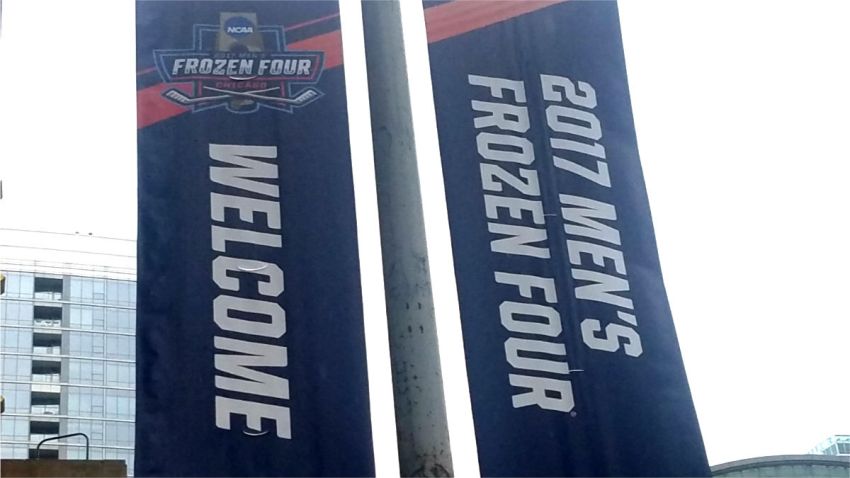 The Chicago Blackhawks have already sewn up home-ice advantage in the Western Conference and the Central Division title, but fans looking for a hockey game with real stakes on Thursday night will have an opportunity to see some of the team's prospects on the national stage.
That's because two Blackhawks prospects will be taking part in the Frozen Four hockey tournament, which will hold its semifinal games on Thursday night at the United Center. Both prospects will be competing in the nightcap of the day's festivities, as the University of Notre Dame will take on Denver in the second semifinal of the evening.
The game will feature Notre Dame defenseman Dennis Gilbert, a 2015 draft pick of the Blackhawks, taking on Denver defenseman Blake Hillman, a sixth round pick of the team in the 2016 NHL Entry Draft.
Gilbert has had an excellent season for the Fighting Irish, racking up 22 assists in 39 games played. A product of the Chicago Steel, a USHL hockey team, Gilbert has been one of the big offensive producers on the Irish blue line as he is the second-leading scorer among the team's defensemen.
On the other blue line, Hillman hasn't quite had the offensive numbers of Gilbert, with just one goal and six assists in 40 games played for the Pioneers, but his defensive skills have been a big key for the team as they earned a number one seed in the tournament and come into the game against Notre Dame as the prohibitive favorites in the contest.
Buoyed by winger Anders Bjork, a Bruins prospect who has 21 goals and 31 assists this season, the Irish will be hoping to score an upset, but it will be a big challenge against one of the top teams in the country. Troy Terry and his 22 goals will be a tough challenge for Gilbert and the Irish defense to deal with, and their power play is in the top 10 nationally as they've scored on 21.7 percent of their man-advantage opportunities this season.
The puck is scheduled to drop in the game at 8:30 p.m. Central time, with the game being televised on ESPN2.