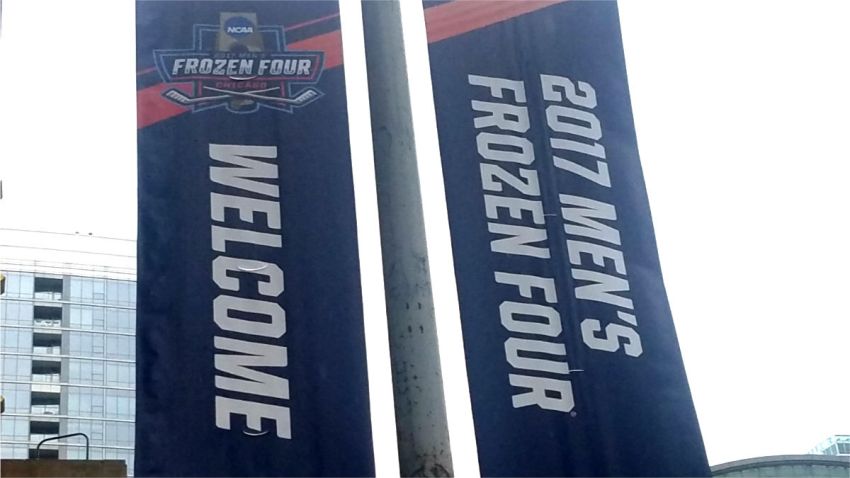 The NCAA men's hockey tournament is working its way toward the Frozen Four, and for the Chicago Blackhawks prospects participating in the postseason, it's been a mixed bag of results thus far.
After Saturday's action, only one Blackhawks prospect still has a chance to compete in the Frozen Four at the United Center next week, as Notre Dame will play for a berth into the national semifinal when they take on UMass-Lowell on Sunday afternoon.
Defenseman Dennis Gilbert will take the ice for the Fighting Irish in the game, and he'll be looking to make more of an impact than he did in Saturday's game against Minnesota, where he failed to register a shot on goal and was a plus-1 rating.
Two other Blackhawks prospects have already seen their postseasons come to an end this weekend. Western Michigan forward Matt Iacopelli had a strong game against Air Force on Friday, but his two assists weren't enough as the Broncos fell to the Falcons.
Boston University defenseman Chad Krys was also bounced from the tournament, as the Terriers lost to Minnesota-Duluth on Saturday afternoon in the tournament quarterfinals. Krys did have a solid game as he notched an assist and a plus-2 rating, but it wasn't enough as his team was eliminated.
Minnesota-Duluth and Harvard have already clinched berths in the Frozen Four, which will begin on Thurs, Apr. 6 at the United Center in Chicago. Two more teams will punch their tickets on Sunday, as the winners of the Notre Dame-UMass Lowell and Penn State-Denver games will each claim spots in the tournament's final rounds.