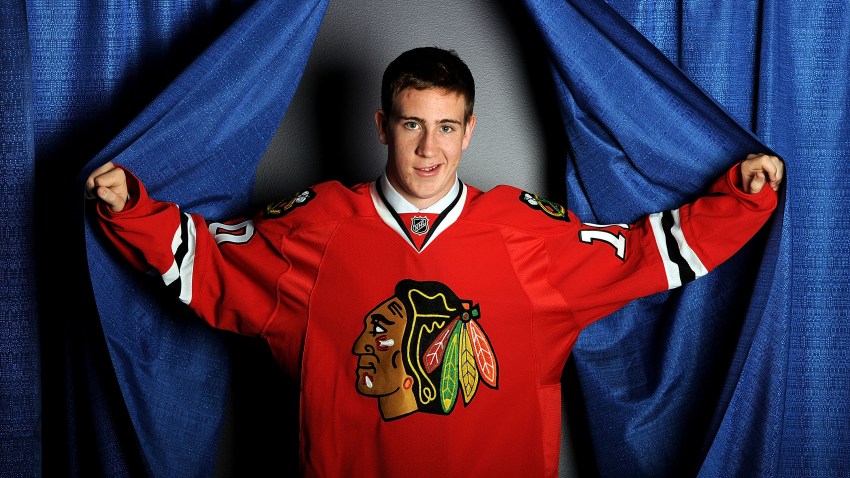 The Chicago Blackhawks will be convening their top prospects next week at their annual development camp at Johnny's Icehouse West, but one of the team's most prized players will not be attending the festivities.
Kevin Hayes, a forward who was nominated for the Hobey Baker Award as the nation's top college player after a dominant senior season at Boston College (and the number five prospect on our Top 10 prospects list), will not be participating in the camp, as the Blackhawks have yet to sign him to an entry level contract following the completion of his collegiate career. The two sides continue to negotiate, but not much progress has been made in recent weeks.
Unfortunately for Chicago, time is not on their side when it comes to signing their 2010 first round draft pick to a deal, as ESPN Chicago's Scott Powers reports:
"Time is running out for Hayes and the Blackhawks to work out a deal. The Blackhawks have until Aug. 15 to sign him or he becomes an unrestricted free agent. If they are unable to agree on a contract before the deadline, the Blackhawks will be given a compensatory second-round draft pick in 2015."
Hayes' agent did tell Powers that his client could still sign with Chicago, but didn't elaborate beyond that. With 27 goals and 38 assists in 40 games last season, Hayes is clearly an excellent offensive player, but there are still question marks about why he hasn't signed with the Hawks yet. Speculation on whether he is resentful that the team shipped his brother Jimmy Hayes to the Florida Panthers in the November 2013 swap that brought Kris Versteeg back to the squad has run rampant, but Hayes and his agent Robert Murray have denied that contention.
Prospect camp will get underway for the Blackhawks on Sunday and will run through Friday, July 18. Roster information and practice schedules will be available later in the week.