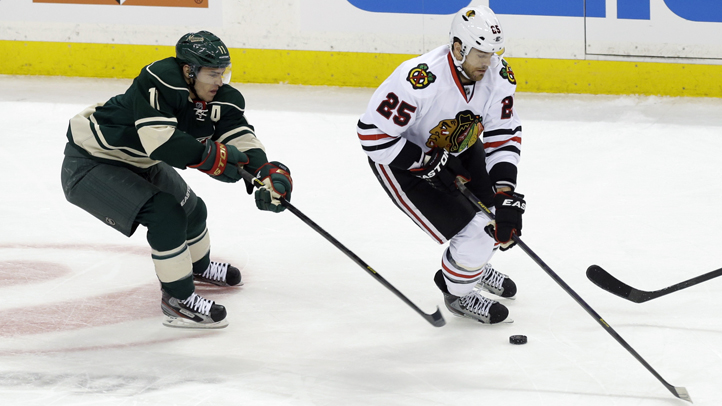 The Chicago Blackhawks held their morning skate at Joe Louis Arena ahead of tonight's Game 3 showdown with the Detroit Red Wings, and head coach Joel Quenneville confirmed that Viktor Stalberg will be rejoining the lineup.
In addition to Stalberg's return, Quenneville also toyed with the media a bit by not having Michal Handzus out on line rushes this morning. That set off a bunch of speculation as to whether or not the veteran center would be in the lineup. After the practice Quenneville said that Handzus will be playing but still would not confirm that winger Daniel Carcillo was out of the Game 3 lineup.
Johnny Oduya was also out with the Blackhawks this morning after missing Sunday's practice, so it appears that all systems are go for the Hawks' defenseman as well. Quenneville also addressed complaints by Hawks captain Jonathan Toews about the officiating in Game 2, as CSN Chicago's Tracey Myers reports via Tweet:
Q on officiating in Game 2: "I'm not complaining." Said #Blackhawks' performance, or lack thereof, was the problem. — Tracey Myers (@TramyersCSN) May 20, 2013
The latter half of the tweet shows explicitly where Quenneville's head is as he makes a couple of lineup adjustments for this one. Putting Dave Bolland back on the second line is a demonstration of his belief that Bolland is better suited to getting the most out of Patrick Sharp and Patrick Kane than Handzus is. He also reunited the third line of Stalberg, Andrew Shaw, and Bryan Bickell, meaning that he feels that the missing chemistry of that unit is something that has affected the Hawks negatively.
Finally, in likely moving Handzus down to the fourth line, Quenneville is acknowledging that Marcus Kruger's faceoff woes are something that the team takes seriously, and that the Hawks need to get him out onto the wing where his speed can be used as an asset.