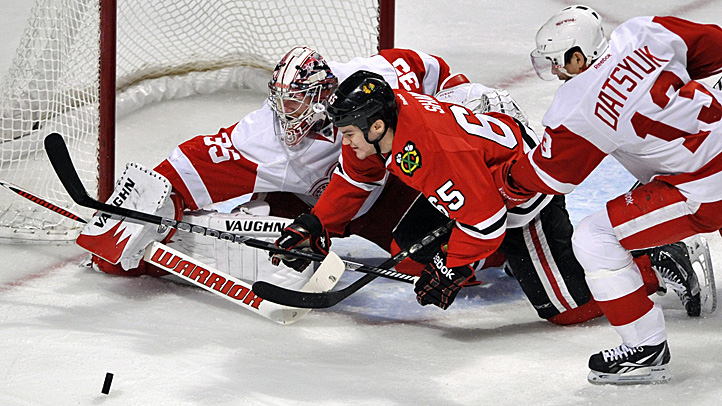 The Chicago Blackhawks did not play on Thursday night, but they did get a little bit of clarity on who they could potentially be facing in the first round of the Stanley Cup playoffs, which will likely begin in the Windy City on Wednesday.
The Dallas Stars, a longshot for a postseason berth, were eliminated by the Detroit Red Wings, who beat the Nashville Predators 5-2. The victory propelled the Wings up into the seventh spot, and pushed the idle Minnesota Wild into eighth position.

Meanwhile, the Columbus Blue Jackets knocked off the Stars in Dallas to keep their slim playoff hopes alive, but still sit behind the Wild in ninth position going into the season's final two days.

In terms of clinching the remaining two Western Conference playoff spots, the math breaks down like this:

-If the Red Wings get one point against the Stars on Saturday, they clinch a playoff berth.
-If the Wild can get two points over their final two games, against the Oilers at home and the Avalanche in Denver, they will clinch a playoff berth.
-If the Blue Jackets win their final game against the Predators and EITHER Detroit loses in regulation to Dallas OR Minnesota fails to get at least two points in their final two games, then the Jackets would make the playoffs.
For those of you curious about how the Hawks have fared against these three teams, Chicago swept the season series with both the Red Wings and Blue Jackets this season, and ended up going 2-0-1 against the Wild in three games, losing a shootout in Minnesota for their first defeat of the season.