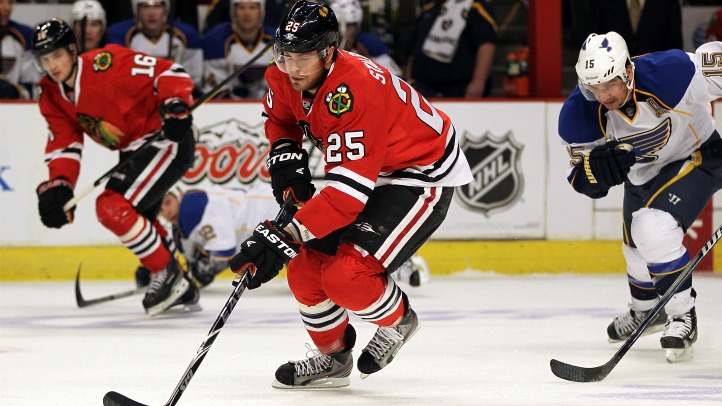 For Hockey Day In America, Sunday was not much of a showcase of what the sport can be. Which is exactly how St. Louis wants it. After all, their job isn't really to demonstrate the beauty of the sport. In fact, it's the opposite.
Games against St. Louis are just going to look like this. While there were many grumbles among the faithful after the Hawks' first two periods, the Blues did what they do best. They work in their own zone extremely hard, and there's no space to be found. Every time a Hawk went for the puck, there was a white-shirted blue note all over him, if not two or three. Odd-man rushes are about as prevalent as Big Foot. Shots are blocked when they can even be fired off. They do it well, it's just not much fun to watch.
Against a team playing like that, the only solution is to keep your zone tight so they can't get out of range, and to patiently work hard, get pucks deep, wait for a mistake from them that you know might never come, hope to get a bounce and pounce when you do. You can't pass through them, you can't make pretty plays. Blitzkrieg is the method instead of the surgical strike.
The Hawks weren't perfect at it. They passed up some shooting opportunities for fancy drop passes or others that will never work. They tried carrying the puck in when there wasn't space to do that. They didn't always show the fight to retrieve dump and chip-ins. But for the most part, the Hawks stuck with the plan, turned up the volume in the 3rd, and got their reward. Which is what you have to do against the Blues, even though you know it might never come. They don't have 12 shutouts on the year for nothing.
Hawks fans had to wait until the final frame. But the equalizer came off a turnover which evolved into Patrick Sharp waiting for mates to change and then finding Duncan Keith late. Kane driving to the net provided the added distraction.
The second and winner was the result of diligent work in the zone from Bryan Bickell and Bolland, and a little luck. Sure, it went off David Backes' stick, but if he doesn't get it Bickell was waiting for a tap-in.
It will never be pretty, but the Hawks will be most satisfied that they came up trumps in a trench-warfare-type game, and came back against a Blues team that does not cough up 3rd period leads.
Feels better than a week ago, don't it?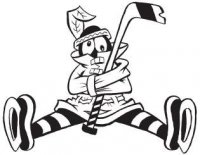 Sam Fels is the proprietor of The Committed Indian, an unofficial program for the Blackhawks. You may have seen him hocking the magazine outside the United Center at Gate 3. The program is also available for purchase online. Fels is a lifelong 'Hawks fan and he also writes for Second City Hockey .