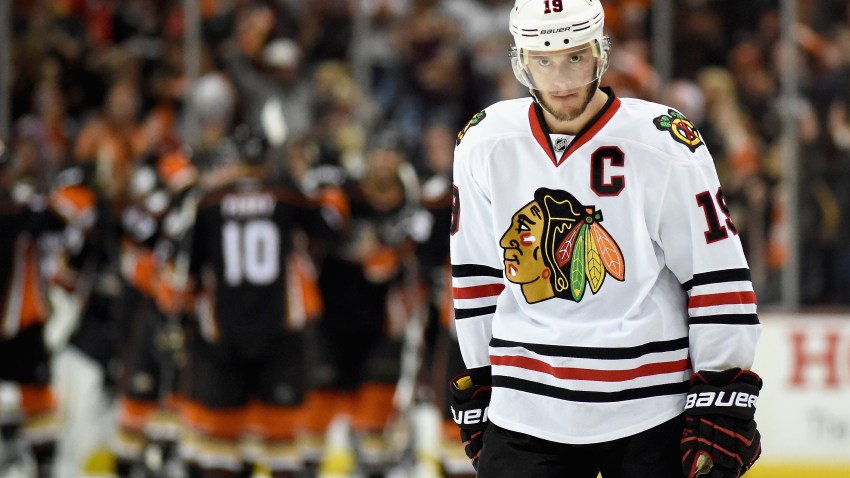 The Chicago Blackhawks are trying to get to their third Stanley Cup Final in the last six seasons and their second in the last three, but their backs are against the wall as they trail the Anaheim Ducks by a 3-2 margin in the Western Conference Final.
With Game 6 looming in Chicago on Wednesday night and the prospect of being eliminated just before the final series a definite possibility, we're asking ourselves this morning: just how worried should Hawks fans be?
To help answer that question, we're dusting off our trusty Panic Meter.
Offense: 6/10
The Blackhawks have gotten some great news lately with the coming out party for winger Teuvo Teravainen and the push they got from Jonathan Toews on Monday night in Game 5, but there are still players that need to step up their games. Patrick Sharp's turnover at the blue line cost the Blackhawks a goal against Anaheim on Monday, and Marian Hossa's shooting percentage is hovering around two percent for the postseason.
Those numbers have got to change if the Hawks are going to make a comeback in this series, but at least they have other weapons that are able to pick up the slack.
(function() { function async_load_poll() { var exscript_poll_script = document.createElement("script"), head = document.getElementsByTagName("head")[0]; exscript_poll_script.type = "text/javascript"; exscript_poll_script.src = "https://excitem.com/nbc/s_embed.php?id=4634&w=305"; head.appendChild(exscript_poll_script); } if (window.attachEvent) { window.attachEvent("onload", async_load_poll); } else { window.addEventListener("load", async_load_poll, false); }})();
Defense: 9/10
Sure Duncan Keith seems like he would be able to play 50 minutes a night and not blink an eye, and Brent Seabrook has been a lethal offensive weapon the past few games, but wear and tear seem to finally be taking their toll with this group as the series continues.
Whether it's overuse, lack of depth, or some combination of the two, the Hawks' defense allowed some really good scoring chances to the Ducks in Game 5 and were in bad position on others. Turnovers on the forecheck led to a couple of Ducks goals in the game, and then Kimmo Timonen's pass to the point is what ultimately led to Sharp's turnover and another Anaheim tally.
Finally, Seabrook himself wasn't without blame, panicking on the game's final 2-on-1 rush as he tried to block a pass from Ryan Kesler that never came as the center fired a low shot off of Corey Crawford's pads, and that puck found its way onto Matt Beleskey's stick as the winger fired home the game winner.
This group is a resilient one, full of veterans who have been through this rodeo before, but one has to question whether or not they've finally met their match.
Goaltending: 5/10
Crawford has let in a few soft goals here and there during this series, but for the most part, he has helped keep the Hawks in it even as the defense has let him down time and again. Traffic in front of him has really hindered him in this series, but he's fought through screens and even taken a few shots of his own at his opponents as the games have worn on.
Anyone blaming Crawford for the losses of this team haven't really watched the series. He has fully recovered from his poor play against Nashville, and he's frankly one of the main reasons that this thing is still winnable for the Blackhawks.
Total: 6/10
No team in their right mind wants to go down 3-2 in a series, but that's the position the Blackhawks find themselves in. They have had opportunities to be ahead in this series, but the reality is that this series has seen a bunch of coin-flip moments between two evenly matched teams, and the breaks have ultimately gone the Ducks' way.
Fans should be concerned to a degree, but if any team in these playoffs has given fans reason for optimism, it's the Hawks. They possess the right blend of star talent and role players to get the job done, and this group has a ton of pride. They never quit fighting, and you saw that on Monday night. The team was down 3-0 and playing their worst hockey in recent memory, and yet they scratched and clawed their way back and forced overtime.
Lineup tweaks and home ice will both help on Wednesday night, and the Hawks should come out with a tremendous effort to keep their season alive. Fans writing this team off do so at their own peril, and should probably stick to writing in pencil instead of pen.