Break out the spreadsheets...
4.14: Harped on this last week, but this is Marian Hossa's shots per game. It's a full one shot per game higher than his first two years. Keep your eye on this. As long as Hossa is averaging near four shots per game, combined with games played being high, Hossa will score 35 goals or more. Which is what Hawks fans have been waiting for.
70.7: The percentage of shifts that Andrew Brunette is starting in the offensive zone. This is kind of alarming because Brunette is a -2 and a negative 2.71 in Behind the Net Rating, meaning the Hawks are almost three goals worse for every 60 minutes he's on the ice vs. 60 minutes he's off the ice. Brunette is obviously struggling to find his place in an up-tempo game. He's a weapon on the power play but has looked a little lost at even-strength. He's a wily veteran, the smart money says he'll figure out how to adjust. But right now, he's at least a defensive liability at even-strength. Most likely it's because his anvil like feet just aren't getting him back in time.
4.28: Dan Carcillo's Behind The Net Rating. Meaning he's worth over four goals for 60 minutes he's on the ice. This will go down as an absolute shock. Carcillo was on the exact opposite side of the spectrum last season with Philly. He's demonstrated hands here to make plays with Hossa and Patrick Kane. He's been physical -- outside of the second game with Colorado -- which is clearing space. There's no better example than Kane's spin-o-rama assist to Hossa on Tuesday. That doesn't happen if Carcillo isn't occupying defenders as he crashes the net, opening that passing lane. It's a small sample size, things will change. But for right now, Carcillo's been the most pleasant of surprises.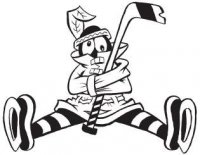 Sam Fels is the proprietor of The Committed Indian, an unofficial program for the Blackhawks. You may have seen him hocking the magazine outside the United Center at Gate 3. The program is also available for purchase online. Fels is a lifelong 'Hawks fan and he also writes for Second City Hockey .