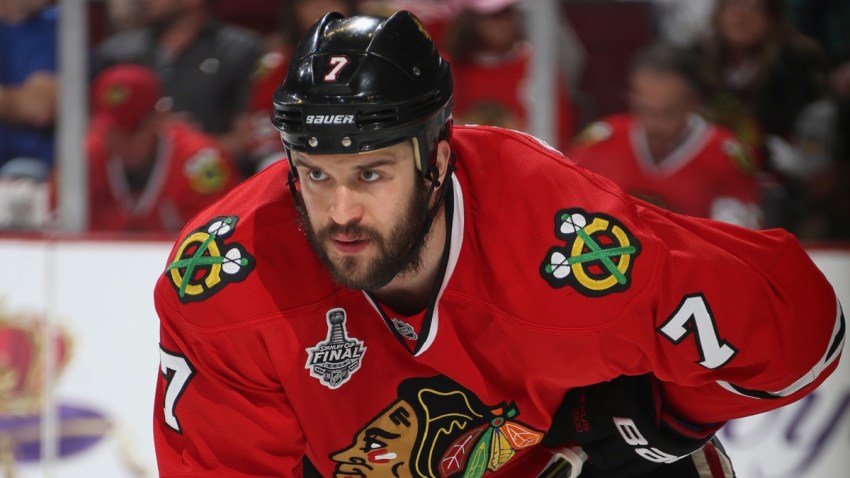 With Patrick Sharp's departure, the Chicago Blackhawks were in need of a new alternate captain for the 2015-16 season, and the team has given that distinction to defenseman Brent Seabrook.
Seabrook, who is entering the final year of his contract, has been with the Blackhawks ever since the team drafted him in the first round of the 2003 NHL Entry Draft. In 763 career games with the Hawks, Seabrook has scored 71 goals, dished out 247 assists, and has helped the team to three Stanley Cup victories in six seasons.
Seabrook has been a vocal leader of the organization as they've become one of the most successful in the sport, and several players sang his praises on Thursday.
"For many years, he's been one of those guys that we can look up to and learn from," Blackhawks captain Jonathan Toews said. "He's been a great friend and a great teammate. We know that won't change the way he does things, and he's been a huge part of our locker room and our success on the ice."
One of the more intriguing questions facing the Blackhawks is whether or not giving the "A" to Seabrook is an indication that he will be around beyond the 2015-16 season. He is currently making $5.8 million on his contract, but with a potential pay raise on the horizon, will the Hawks be able to afford to keep him?
Seabrook addressed those concerns during the team's opening press conference in South Bend.
"I'm very honored to be part of the group up here," he said. "I've had some talks with Stan (about a new contract), (but) that's sort of it."
The Blackhawks currently have 15 players on the books for next season, with around $12.5 million in salary cap space available. They would almost certainly have to make some moves to free up room, and players like Bryan Bickell could find themselves on the chopping block in order to make a new deal for Seabrook to fit.