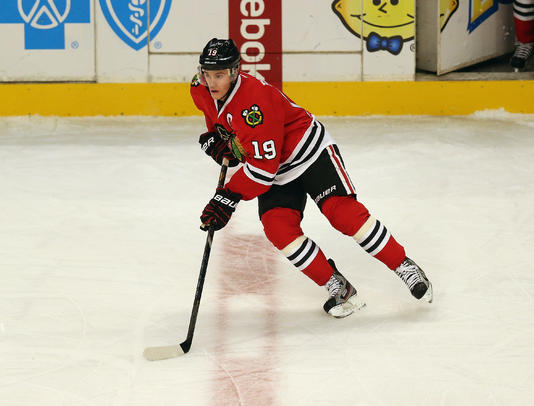 The Chicago Blackhawks officially hit the halfway point of their season yesterday with a 3-2 victory over the Colorado Avalanche at the United Center. In this shortened 48-game season, they already racked up an incredible 21-0-3 record and won their last 11 consecutive games, both team records.
With that abbreviated schedule, the league's All-Star Game, originally set for Columbus, Ohio, was canceled even before the new Collective Bargaining Agreement was reached. Our hypothetical question here is this: Imagine the league had merely moved the ASG to the middle point of the season. Who from the Blackhawks would make the roster?
Here are the Madhouse Enforcer picks for the Western Conference All-Star team, with a bit of justification behind our picks from the Hawks:
Note: Instead of trying to figure out NHL All-Stars, like has been done the past few years with the All-Star draft, we strictly set the rules for at least one All-Star per team and for a standard lineup, with 12 forwards, six defensemen and two goalies.
Forwards:
Ryan Getzlaf (ANA), Corey Perry (ANA), Jarome Iginla, (CAL), Patrick Kane (CHI), Jonathan Toews (CHI), Matt Duchene (COL), Vinny Prospal (CBJ), Pavel Datsyuk (DET), Sam Gagner (EDM), Anze Kopitar (LAK), Daniel Sedin (VAN), Henrik Sedin (VAN)
The two players representing the Hawks from this forwards group are pretty obvious choices. Marian Hossa has had a very respectable year, but he isn't in the same class offensively as Kane has been all year long. He is right in the thick of the MVP discussion due to his hot start, and his flair while doing it has endeared him to many NHL fans.
As for Toews, he has been the rock-solid foundation for this Hawks team as they've gotten off to a historic start. His captaincy has been one marked by not only the 2010 Stanley Cup championship, but also by his poise under pressure and incredible maturity for his age. There is a reason why he is constantly praised as one of the top leaders in the league.
Defensemen:
Alex Goligoski (DAL), Ryan Suter (MIN), Shea Weber (NSH), Oliver Ekman-Larsson (PHX), Alex Pietrangelo (STL), Kevin Shattenkirk (STL)
The Blackhawk omitted from this list was Duncan Keith, who has been spectacular on both ends of the ice this year. The reason for his omission is twofold. One, there were four teams that got their lone All-Star representative on this side of the puck, so they were pretty obvious choices that couldn't be scratched in favor of Keith.
The other is that both Pietrangelo and Shattenkirk have been splendid for the Blues this season, and omitting one of these potential Norris contenders for Keith would be a mistake.
Goalies:
Corey Crawford (CHI), Antti Niemi (SJS)
An argument could be made that Crawford's candidacy could be diminished by the blemish-free 10-0-0 record of Ray Emery this season, but the fact of the matter is there really aren't any other goalies lighting the world on fire in the west that could top what Crawford has done. His 11 wins are tied for the league lead, but he has also stopped 94% of the shots he has faced and only allowed a meager 1.53 goals per game, both of which are second only to Craig Anderson in the NHL.