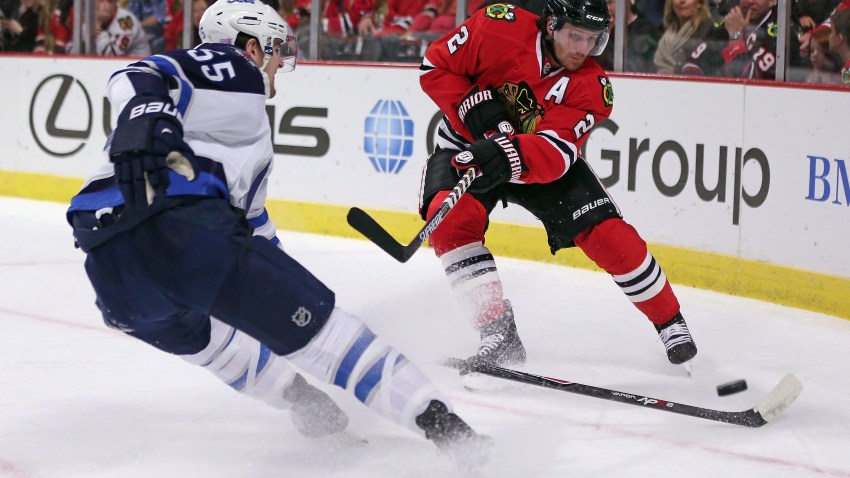 The Chicago Blackhawks hit the halfway mark of their season on Thursday night in a 4-2 win over the Minnesota Wild, and if one takes a big-picture look at things, they are sitting in a pretty good spot as they prepare to begin the second half of their season.
They have one of the top offenses in the league, scoring three goals per game. They have the top defense in the league, only allowing 2.1 goals per game. They possess a deep roster with a ton of skill at every position. They have the star power necessary to carry them through tough times. Put all of that together, and you have a team that is well-positioned to compete for the Stanley Cup.
With that in mind, who is the team's first half MVP? Here are our nominees.
Corey Crawford
Despite his missteps (sorry, we couldn't resist the pun) this season, Crawford has still been a solid contributor to the Blackhawks' defensive dominance. He has a 16-8-2 record on the year, with a 2.19 GAA and a .921 save percentage. He's gotten some great help from both Scott Darling and Antti Raanta in the crease this season, but in the first year of his six-year, $36 million deal, he's been living up to expectations.
Patrick Kane
Kane is not only a candidate for MVP of the Blackhawks, but also for the Hart Trophy throughout the entire NHL. He leads the Blackhawks in goals (20), assists (25), and power play points (18) on the season. He also leads the team in shot percentage, converting on 14.9 percent of his shots. Finally getting a center he can rely on (Brad Richards) has done wonders for him, and he could set career highs in all sorts of categories if he keeps this pace up.
Duncan Keith
The defending Norris Trophy winner is well on his way to being a finalist for this year's award too, with six goals, 20 assists, and a plus-13 rating to his credit so far this season. With Johnny Oduya struggling as of late, the Blackhawks are getting some excellent defense out of Keith and his defensive partner Brent Seabrook, and he's continued to play well despite the increased ice time.
Brandon Saad
We know he's in sixth place on the team in points. We know that he's often the forgotten man on a line with Jonathan Toews and Marian Hossa. We know these things, and yet we can't help but be impressed with Saad's play. He's a very good penalty killer, he's fast as all get out, and he's one of the best scorers on the team, currently sitting in third place among goal scorers behind some guys named Kane and Toews. Saad may not be the most heralded member of the Blackhawks, but he's one of the all-around best.
And the Winner Is….
As much as we'd love to buck conventional wisdom and go with one of our other three nominees, Kane has been the best player on this team. His chemistry with Richards has really helped the offense, and he is continuing his upward trend of being a responsible defensive player too. Add that in to his explosive playmaking ability and his wicked wrist shot, and you have one of the top players in the NHL doing what he does best.