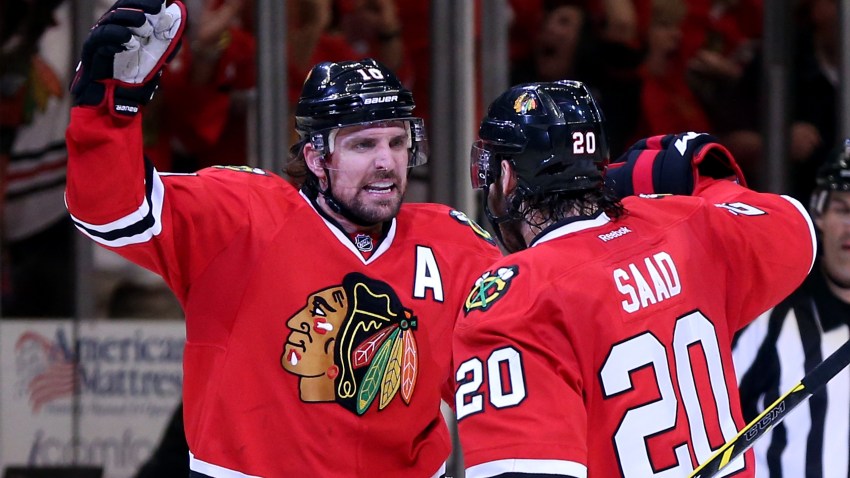 The Chicago Blackhawks have been off for the past four nights, but they will finally hit the ice again on Friday night as they take on the Edmonton Oilers.
The two teams are heading in vastly different directions as they enter the stretch run of the season, with the Blackhawks competing for a playoff spot and the Oilers eyeballing the top available spot in the NHL Entry Draft this summer. The Hawks have won three of their last four games after going through a bit of a tough stretch, while the Oilers have lost four of their last five and five of their last seven games overall.
Perhaps more importantly for the Blackhawks than strictly wins and losses, the team seems as though they're starting to get more production out of some of their key players with Patrick Kane out of the lineup. Brandon Saad scored his 20th goal of the season on Monday night in a win over the Carolina Hurricanes, and Jonathan Toews had a great game of his own as he scored twice and added an assist in the blowout victory.
In facing the lowly Oilers, several Blackhawks players could be looking at adding their names to that list. Duncan Keith is one player who enjoys playing Edmonton, scoring seven goals and dishing out 20 assists in 36 career games against the Oilers. Patrick Sharp, who has been going through arguably the worst goal-scoring drought of his career, is also a fan of seeing Edmonton across the ice, scoring 13 times in 31 career games.
Not to be outdone, the top line has played well against Edmonton in recent years as well. In just eight career games against the Oilers, Saad had three goals and eight assists, while Marian Hossa has 14 goals and 16 assists in 32 contests in his career.
With all of these players having played well against Edmonton in their careers, the Blackhawks should be able to handle whatever the Oilers throw at them, but they'll have to clear up a couple of miscues and mistakes that have continued to plague their game. Their power play unit has continued to struggle despite extensive work during practice, going 0-for-7 in their last three games and only scoring twice on the man-advantage in their last eight games total.
The Blackhawks will also be looking to continue their strong play on the penalty kill. After a rough go against the Tampa Bay Lightning last Friday, giving up two goals on the man-advantage, the Blackhawks went a perfect 3-for-3 on Monday against Carolina, with Joakim Nordstrom playing some great hockey in place of Ben Smith after the forward was traded to the San Jose Sharks in a trade deadline swap.