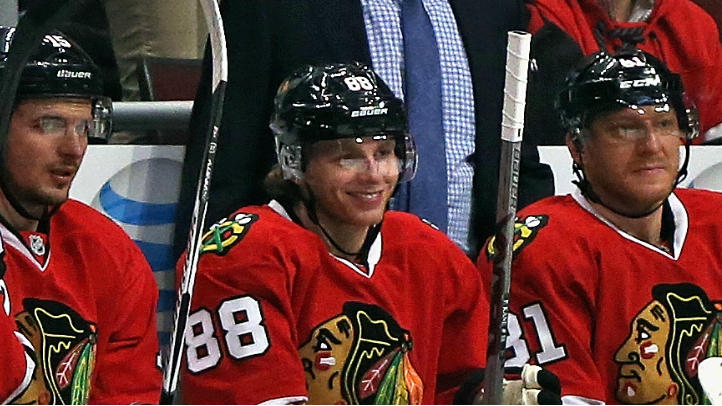 The Chicago Blackhawks will spend their New Year's Eve in Denver as they look to close out 2015 on a winning note against the Colorado Avalanche.
The Blackhawks, who struggled in a big way offensively in two games recently, ended up breaking out of their slump emphatically the last time they played, scoring seven goals and routing the Arizona Coyotes in Phoenix. That game saw the triumphant return to form of the team's second line, and it also was a great night at the office for Andrew Desjardins as he scored twice on the evening.
As they head to Colorado, they will face an Avalanche team that's still down in the standings but is making strides back into contention. The team has won six of their last eight games, including a 6-3 triumph over the San Jose Sharks on Monday night. Goaltender Semyon Varlamov has been a big part of that success recently as he's secured at least one point for the Avs in six of his last seven starts, and the offense has begun to come around as well as they've scored three or more goals in six of their last eight games.
For the Blackhawks, slowing down Colorado's speedy forwards will be a big part of their strategy, but solving Varlamov will have to be high on their list too. The last time the Hawks saw him, he stymied them all night en route to a 29 save shutout at the United Center in mid-December.
To do that, they'll have to bring the consistent pressure that they were able to apply to Arizona on Tuesday night. Getting depth scoring from their bottom six forwards definitely helped matters, as Desjardins and Teuvo Teravainen both had fantastic games, but the team would really be able to kick things into gear if players like Jonathan Toews and Marian Hossa could get things going.
The Hawks will also need a stronger defensive effort than they've put forward recently, as they gave up five goals to the Coyotes in Tuesday's win. Corey Crawford did let in a soft goal or two among that quintet of tallies, but for the most part he was hung out to dry by a defense that was all too often out of position and outmatched by Arizona's willingness to win board battles and get into open space in the middle of the ice.
Colorado can execute a similar strategy to Arizona in that regard, and lower-tier blue liners like Erik Gustafsson and Trevor van Riemsdyk will have to remain disciplined in their assignments in order to secure one final win in 2015.