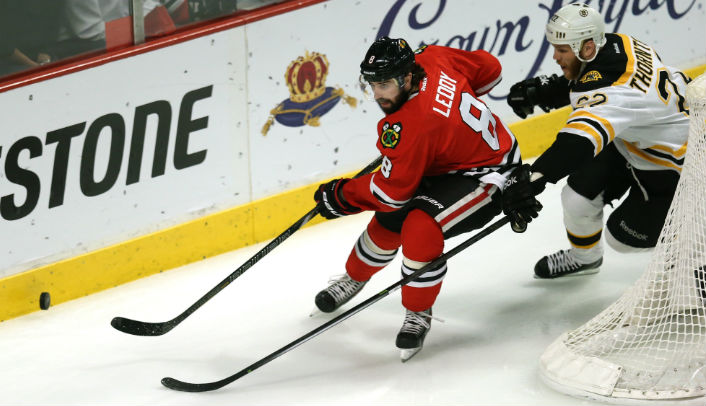 As the NHL season draws near, Madhouse Enforcer is taking a look at the players who will be key to the Chicago Blackhawks' chances to become the first team since the 1997-98 Detroit Red Wings to repeat as Stanley Cup champions.

Today's player is defenseman Nick Leddy.
When the Hawks traded for Leddy during the 2009-10 season, it caught a lot of NHL experts by surprise. After all, Leddy was a native Minnesotan, drafted by the Wild with the 16th pick in the 2009 NHL Entry Draft, and in exchange for his services, as well as those of veteran Kim Johnsson, all
the Hawks sent to the Wild was overpaid defenseman Cam Barker, who had never panned out during his stint with the organization.
At any rate, Leddy's first three seasons in the NHL have been marked by several ups and downs. At times, he has looked like a puck-mover and offensive weapon in the mold of former Hawks defenseman Brian Campbell, but at other times, he looks like a liability and draws the ire of head coach Joel Quenneville, like he did during the Stanley Cup playoffs against the Detroit Red Wings.
Overall, his playoff performance during the Hawks' run to their second title in four seasons left something to be desired, as he had zero goals and two assists in 23 games. Add to that his minus-8 performance in those games, and it's pretty clear that Leddy wasn't exactly banging on the door for the coveted role of a top-4 defenseman, which comes with big paychecks and ample playing time.
The road isn't going to get any easier for Leddy during the coming season. He is likely going to start the season on the team's third defensive pairing, with Brent Seabrook and Duncan Keith being reunited on the top pair and Johnny Oduya forming an all-Swedish second pairing with newly re-signed Niklas Hjalmarsson.
That means that Leddy will have to deal with a rotation at the other defensive spot, with Ryan Stanton, Michal Rozsival, and Sheldon Brookbank likely duking it out for playing time in that position.
The road to maturing into the defenseman that a first round pick should buy is going to be a difficult one for Leddy with that kind of challenge to overcome, but that isn't the only potential stumbling block on the horizon. There is also the matter of the slew of young defensemen in the Hawks' system who play a similar game to Leddy and who come with the added benefit of the so-called "clock" not having started on their NHL careers. That means that players like Adam Clendening and Dylan Olsen can provide similar production at a cheaper rate, and with the team needing to re-sign players like Patrick Kane and Jonathan Toews in coming seasons, then financial decisions will need to be made before then.
That means that Leddy may not be fighting for a job with the current incarnation of the Hawks, but he very well could be fighting for a spot in the very near future. That means that he is going to have to not only keep his offensive production at a high level (a feature that could pair well with Hjalmarsson in the likely event that the Hawks cut ties with Oduya before the end of his current deal), but he is also going to have to do a better job on the defensive end of the ice. His positioning has been called into question before, and it is something that even the most dynamic of offensive weapons needs to have in their arsenal.
With Keith reaching the 30-year old plateau during this offseason, his playing time will likely continue to go down during the upcoming season, and those extra minutes could be had by the 22-year old Leddy. That extra playing time (and the extra negotiating power it will buy him when his current contract expires in 2015) can only be earned by Leddy if he works on the various areas of his game that are currently deficient, and judging by the fact that his average time on ice went down by over five minutes last season, he has a lot of work to do to gain the trust of the Hawks' brass and coaching staff.