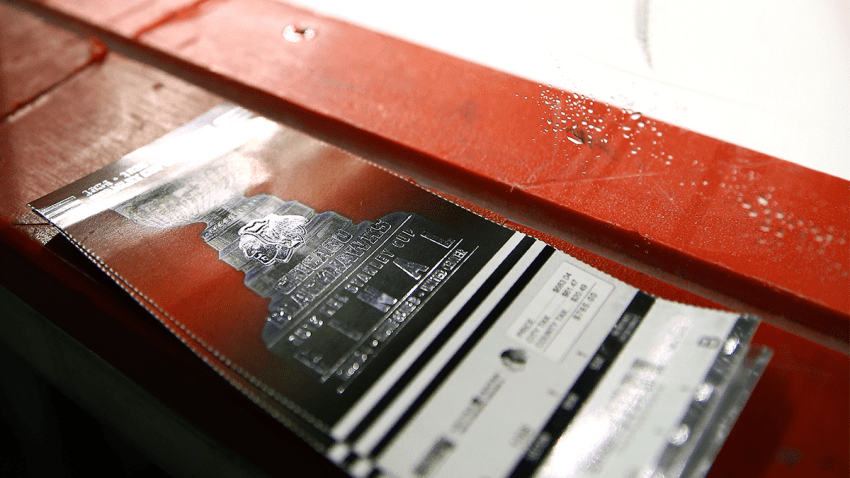 One of the most unique parts of owning season tickets for a professional sports team is the thrill of getting a brick of tickets in the mail, but for fans of the Chicago Blackhawks, that feeling is now a thing of the past.
According to Danny Ecker of Crain's Chicago Business, a letter went out to Blackhawks season ticket holders last week informing them that the team is moving to all-digital tickets for the upcoming season. Fans can either use their smartphones to display tickets to get into the United Center for games or can print them out on their computers at home, but the team will no longer be using ticket stubs for season-ticket holders.
"In keeping our fans' best interests in mind and after extensively reviewing the new ticketing technologies available, we collectively made the decision to move to digital ticketing," Chris Werner, Blackhawks VP of ticketing and customer relations, said in a statement.
According to Ecker, the Blackhawks are the third major Chicago team to go all-digital with season tickets, joining the Chicago Bulls and White Sox. The Chicago Cubs and Bears still use paper tickets for their season ticket holders.
Various professional sports teams have jumped on the bandwagon as well, with the Memphis Grizzlies, Denver Broncos, and Houston Astros all utilizing digital tickets. Some teams like the White Sox do still allow fans to get paper tickets, but for an added fee when buying season tickets.