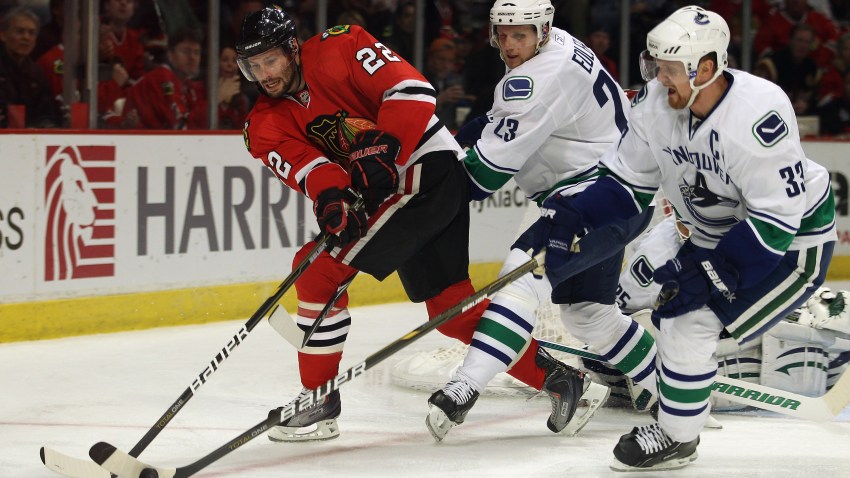 The Blackhawks pulled off a most difficult feat, Sunday, when Ben Smith scored on a rebound late in overtime of a pivotal 3-2 playoff game.
Chicago drew even in the with a Canucks team that led the series 3-0. The defending Stanley Cup champs now have a chance to steal one more victory from the top-seeded team from Vancouver and move on to round two.
Smith, a rookie, followed in a long, hard shot from the point by teammate Niklas Hjalmarsson that bounced off goalie Roberto Luongo.

Luongo didn't start the game but was called upon in the third period when Cory Schneider had to be helped off the ice when he was injured as he tried to stop Michael Frolik's penalty shot that tied it at 3.

Vancouver coach Alain Vigneault said after Chicago's 5-0 victory in Game 5 when Luongo was pulled for a second straight game that Luongo would remain the starter.

Luongo has struggled at times in his career against the Blackhawks, but he shut out Chicago in the opener of the series with 32 saves and went 38-15-7 with a 2.11 goals-against average in the regular season. But the previous two games the Hawks punished him.

Schneider made his first career playoff start and appeared in his third postseason game overall. He relieved Luongo in Games 4 and 5.
Besides Smith and Frolik, Bryan Bickell and Dave Bolland -- on sweet pass by Patrick Kane -- scored.
Game 7 is Tuesday night in Vancouver.
Associated Press/NBCChicago