It's been a couple years since I felt what this was like, but there are nights when it can be a bit boring to be the fan of a team that's very good.

I think that's what we're finding out about this Hawks team. Some nights, as long as they pay attention to the tasks at hand, don't get cute and merely accomplish everything on the checklist, they will easily slide by some opponents. It'll never look like a real contest and the Hawks won't look like they're working all that hard, but it'll be over in a blink.

So it was Sunday night.
The Hawks did what they needed. They were tight in their own zone, rarely giving up a chance from an area that wouldn't require roaming charges to get to Ray Emery, and never giving up a rebound chance until late in the game on a penalty kill.

They chased Flame d-men into turnovers, outworked them down low, leading to the first goal which was always going to make the difference. They killed off any power play that would have led the Flames back into the game with aggressive, determined tactics. And when their chance came, they buried it and ended the game. Their stars got only a couple looks each, but that's all they need to make a team pay.
Concern grows over the injury to Brent Seabrook. It's obviously his head that hit the boards, and this will be the third year in a row that Seabs has taken a major knock to the dome. One wonders when they will build up enough to keep him on the shelf for an extended period, and that is something the Hawks cannot afford. They got away with it Sunday against a team that does not carry the artillery of a modern army, but they won't most nights. Seabrook makes Keith better, and we've seen what it looks like when they are apart from each other. Hopefully it is not too serious.
Joel Quenneville bagged his 600th win. Though I spend a lot of time questioning his decisions or motives, 600 wins is a total that's inarguable. It puts him with a select crew whose names ring on forever. It's a special club. Perhaps our frustration with some of Q's moves is that win total suggests he should know better. Or maybe we just can't see the motives behind them?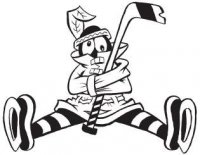 Sam Fels is the proprietor of The Committed Indian, an unofficial program for the Blackhawks. You may have seen him hocking the magazine outside the United Center at Gate 3. The program is also available for purchase online. Fels is a lifelong 'Hawks fan and he also writes for Second City Hockey .