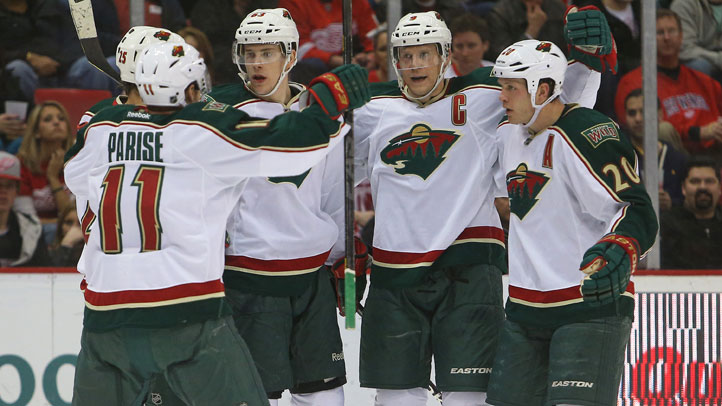 With the NHL's commitment to airing all playoff games on national television during the postseason, fans from across the league will get an opportunity to see three different Game 7's on Wednesday night.
For Chicago Blackhawks fans in particular, there is one game that should be commanding their attention, as the Colorado Avalanche attempt to defend home ice for the fourth consecutive time against the Minnesota Wild in Denver. Both teams have played their fair share of good hockey in this series, but neither team has been able to wrest momentum fully away from the other.
With the Chicago Bulls being knocked out of the playoffs, the temptation to do some advanced scouting could have Hawks fans tuning into the Wild-Avalanche game, but for those who haven't been following the series closely, they may not know which players to keep an eye on when the two teams hit the ice.
If that's the case, or if you just want to have an idea of which players to watch when one of these teams faces off against the Blackhawks in the second round, Madhouse Enforcer has you covered with this scouting report on both teams going into their game tonight.
Colorado Players to Watch:
We'll start with the home side of the proceedings, and there are several players worth keeping an eye on. The first is rookie Nathan MacKinnon, who has been one of the Avs' most dynamic players…..so long as he's on home ice. In the three home games in this series (all wins for Colorado), MacKinnon has two goals and eight assists, and scored the game-winning goal in overtime to give the Avalanche a 4-3 overtime victory in Game 5.
During the three road games Colorado has played, things have been a lot worse. In those contests, MacKinnon has yet to register a point and only has four shots on goal while racking up a minus-2 rating. His ice time does go down a bit in road games due to head coach Patrick Roy trying to minimize unfavorable matchups against the rookie, but when he's at home, he is deployed at will and scores a ton.
The other player to really keep an eye on in this game will be Matt Duchene. The star forward had missed a month of action with a knee injury before coming back on Monday night in St. Paul, where he registered an assist on a power play goal. He ended up playing nearly 19 minutes in the game, but the rust was still evident. It will be interesting to see if he will be able to shake that off in a winner-take-all situation on Wednesday night, and he will be a player to keep a sharp eye on if the Avalanche advance.
Minnesota Players to Watch:
The Wild has been getting some great production out of Zach Parise so far in this postseason, and he really has been instrumental in keeping this series going for the full seven games. He had an assist on the team's lone goal in their 1-0 overtime win in Game 3 of the series, and he really stepped up on home ice Monday, scoring twice and adding two assists as the Wild thumped Colorado 5-2 in their Game 6 victory.
In fact, Parise has contributed even when his team isn't winning, picking up points in all six games and pitching in both on the power play (he had a power play marker on Monday) and short-handed (he had a short-handed assist in Game 2). Parise has seen his ice time trimmed a bit in recent games, but it would stand to reason that Mike Yeo will put him on the ice as much as possible in a must-win game Wednesday.
The other player Blackhawks fans really need to pay attention to is Finnish star Mikael Granlund. He turned some heads in the Olympics with his lightning quick speed and tremendous hands, and after a bit of a slow start to the playoffs he is really turning his game around. In the last four games, Granlund has two goals and two assists, and has racked up 12 shots on goal in the process. Add to that the fact that he had the game-winning goal in Game 3 of the series, and the fact that the Wild are trusting him to play some serious minutes, and you have the recipe for a potential game-breaker as the Wild look to stun the Avalanche and advance to the next round.
If you're interested in checking out the game, it will air at 8:30pm on CNBC.