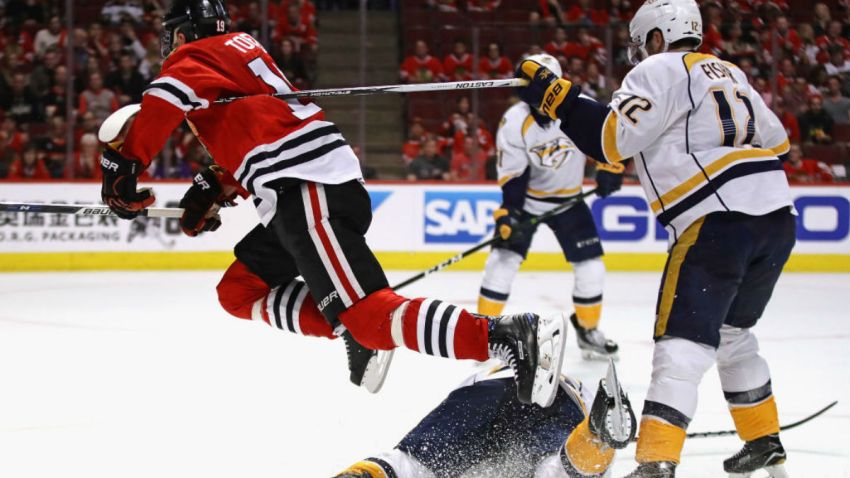 Blackhawks fans panicking over Monday night's painful Game 3 playoff loss to the Predators have reason to stay optimistic. Four reasons actually.

In NHL history, four teams have come back from a 3-0 playoff deficit, dating all the way back to 1942. That year, the Maple Leafs rose to best the Red Wings in the Stanley Cup Final, winning their fourth Stanley Cup.

The Islanders, down 3-0 in the conference semifinal in 1975, came back to beat the Penguins and move on, and in 2010, the Flyers advanced to the Stanley Cup Final after reclaiming their place from a 3-0 deficit and beating the Bruins in the conference semifinal.

Chicagoans know how that ended, though, with a loss to Blackhawks in the Stanley Cup Final.

The most stunning example is also the most recent. In 2014, the Kings found themselves exactly where the Hawks stand now: down 3-0 in the first round. Not only did the team beat the San Jose Sharks in that round, they went on to win the Stanley Cup, beating the Blackhawks in the Western Conference Final along the way.
The Blackhawks came close to joining this elite group in 2011, when they stormed back from a 3-0 deficit against the Vancouver Canucks and tied the series at 3-3.
Unfortunately for the Blackhawks, their comeback was not meant to be, as they lost in overtime in Game 7 to fall just short of making history.

A 3-0 series deficit a sobering place to be, especially when history tells us, according to whowins.com, teams trailing 3-0 in NHL playoffs have won just four out of 183 series.
And not everyone is optimistic. Dom Luszczyszyn of The Hockey News's algorithm gives the Hawks a 6 percent chance.

But it's possible. Just ask the Maple Leafs, Islanders, Flyers and Kings.