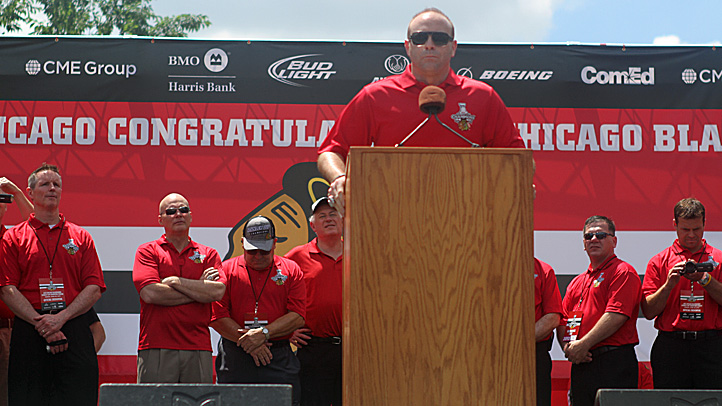 Chicago Blackhawks General Manager Stan Bowman has made a big name for himself in his four seasons as GM of the Hawks, winning two Stanley Cup championships and engineering an incredible rebuilding process after dismantling the team due to salary cap concerns.
On Wednesday, the team further showed its gratitude for the work he had done, extending his contract by an additional two years through the end of the 2017-18 season.
"Stan has been an integral part of our organizational success and we are proud to reward him with a well-deserved extension," Blackhawks President and CEO John McDonough said in a statement. "From the amateur levels to our team in Chicago, Stan has a great system in place as we all strive for consistent excellence throughout the organization."
Bowman is currently the youngest general manager in the NHL, and also has been involved in recent years in helping select the US Men's National Team, serving on the Team Advisory Group. He has been with the Blackhawks for 13 years, spending his first four seasons as Special Assistant to the GM before being promoted to Director of Hockey Operations in 2005. He was then promoted to Assistant GM under Dale Tallon until 2009, when he ascended to the General Manager's chair.
Obviously, the Hawks have never entertained the thought of letting Bowman go. At the beginning of the 2011-12 season, he had signed a contract extension through the 2015-16 campaign, so this extension is simply a validation of the work that he has done this offseason in getting extensions done early for guys like Corey Crawford and Niklas Hjalmarsson, as well as hammering out restricted free agent contracts with Nick Leddy and Marcus Kruger.
Now, Bowman will face yet another tough challenge in the coming years, as Patrick Kane and Jonathan Toews come up for contract extension talks, likely after the coming season. Fitting those players in under the cap will be yet another feat of cap wizardry from a man who has made a habit of making things happen during his tenure, and the organization clearly feels great about the direction he is taking the roster in.