News out of practice Tuesday is about what's to be expected. Ray Emery will get the start in Minnesota Wednesday night. While this may inch more people to declare a goalie controversy, it's more to do with picking the hot hand in the sprint of the Western Conference.

Though the save total against San Jose was impressive, Emery didn't have to stand on his head to turn away those 32 Sharks shots. But he did make some big saves when needed to keep his team in it as they were being dragged into the undertow, and the Hawks ask no more of their goalies.
Corey Crawford will get his chance, perhaps against either Anaheim or Calgary, neither of which are a blitzkrieg when it comes to offense. It will certainly be no later than the back-to-back against Pittsburgh and Montreal next week, as Emery probably can't handle two games in two nights. And perhaps the mental break is maybe what Crow needs right now.
As for whatever else is going on, Bryan Bickell looks set to return to his slot on the third line after the demotion of Ben Smith. Joel Quenneville tried the healthy scratch for one game for Bicks earlier in the year to help spur his game, but it didn't work. Hopefully a stretch of time in a suit will see Bicks come out spitting blood.
He'll be joined on that third line by Andrew Brunette. It's an odd fit, but Bruno needs to be higher than the fourth line and right now there just isn't a slot on the top two for him. He's not a fourth line player. Perhaps Dave Bolland can finish off the plays that Brunette makes around the net, as no one on the Hawks have been on that wave length. Whether Brunette's legs-in-mud will work with Bickell and Bolland, that's a much bigger question.
Michael Frolik drops to the fourth line, which is another odd fit but probably called for. Maybe with Mayers and Carcillo's energy he can find some more space.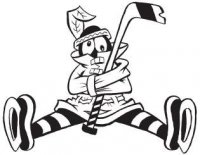 Sam Fels is the proprietor of The Committed Indian, an unofficial program for the Blackhawks. You may have seen him hocking the magazine outside the United Center at Gate 3. The program is also available for purchase online. Fels is a lifelong 'Hawks fan and he also writes for Second City Hockey .