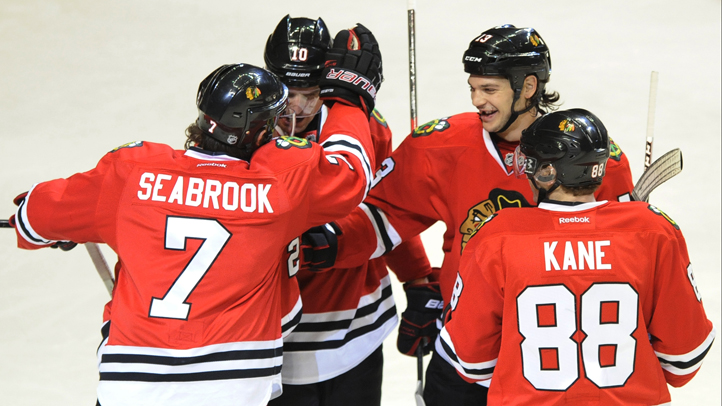 Maybe that will satisfy those who claimed Thursday's win didn't really count. Then again, Calgary will almost certainly be long gone when the shiny things are handed out in the spring. But it's still better than Columbus.
The Hawks pretty much cruised to victory Sunday night. They weren't spectacular. Games on the backend of a a back-to-back rarely are. But they were solid, rarely needing Ray Emery to bail them out after a brief hiccup in the 1st. When he needed to, he did. Olli Jokinen's goal late in the 3rd made it interesting long enough to finish a beer, but the Hawks immediately responded when Viktor Stalberg drove hard to the net, making Marian Hossa's job of getting him the puck that much easier. Game over, two wins in a row, and one more home game before a pretty definitive road trip.
Thoughts:
-Hey, the power play scored again, might want to call the Hall of Records. And who knew that shots from the point would bring rewards? Oh right, everyone. The one power play the Hawks cashed in on they weren't concerned with finding the killer pass or weaving pretty patterns to make women swoon. They opened up a point man, they got some traffic, and they fired. More of this.
-The top line was by far the best the Hawks had going. While Viktor Stalberg just isn't going to win over all Hawks fans, his speed is opening things up for Toews and Hossa. When he charges to the net as he did on his goal, there are few d-men or opponents who are going to be able to beat him there. If he can catch them flat-footed or just unaware for the briefest moment, he'll bag a lot of goals. And everyone will say that it has more to do with his linemates than he. But we'll take it.
-Duncan Keith and Brent Seabrook were close to their best last night, almost arrogantly snuffing out Flames possessions and heading the other way. May they never be apart again.
-Nick Leddy is also showing more brashness now paired with Niklas Hjalmarsson. The security of always knowing where your parnter is is doing him wonders.
-We were forced to watch more John Scott, who know has added being easily knocked down to his repetoire of idiocy. But as long as the Hawks win, we'll keep seeing him until he really goes heels-up, which will probably cost the Hawks a win.