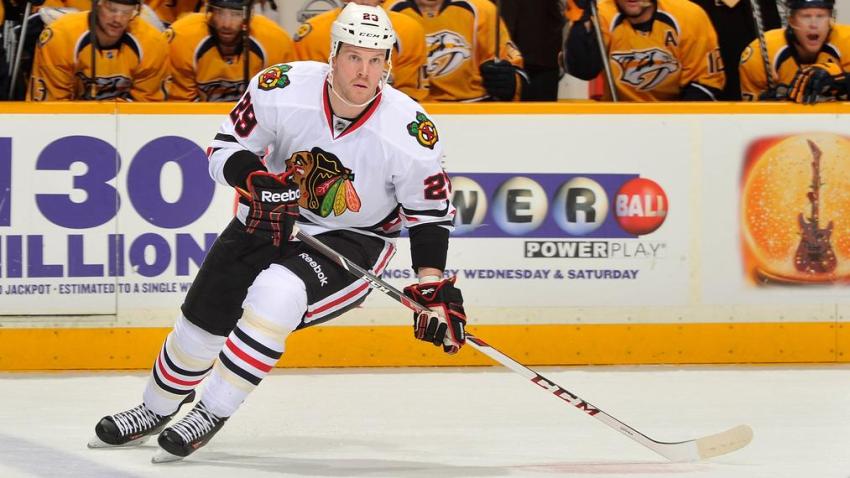 The Chicago Blackhawks are a team that thrives on the scoring depth that they have built over the years, both through the NHL Entry Draft and through free agency, and that ability to roll out four line capable of scoring goals has led them to two championships and made their organization the model by which many teams design themselves.
That depth is especially important in games on the road, as the home team in NHL games gets the right to the last line change during stoppages. That enables coaches to dictate matchups depending on what area of the ice the face-off is in, and smart teams use it to full advantage. A great example off that is what the Detroit Red Wings did in the playoffs last year, splitting Henrik Zetterberg and Pavel Datsyuk during road games (to prevent teams from simply putting out their best defensive line against the formidable duo) and combining them at home when they could dictate the matchup they got to skate against.
In the case of the Blackhawks, their depth is going to be tested in a big way on Saturday afternoon. Not only is the team coming off of a game where they had to play a little over two periods of extra hockey, but they also are playing against a team that thrives on physical play and can at least come close to matching Chicago's team speed. That is what makes the St. Louis Blues such a difficult team to play against, and it's part of the reason why quite a few experts have picked them to knock off the Blackhawks in this series.
In Game 1, those depth pieces were largely quiet. With the exception of Nick Leddy, the Hawks were almost entirely reliant on their main stars for their scoring. In a one game situation, that's obviously not that bad, but if that pattern were to emerge throughout the rest of this series, then it would make it a little bit easier for the Blues to figure out ways of stopping the Hawks from scoring goals.
That means that players like Ben Smith, who had three shots on goal, and Andrew Shaw, who had just one in Game 1, will need to find their way into open ice and make things happen on the offensive side of things. Head coach Joel Quenneville could feasibly switch around some of his line combinations to help that process along, and it will be interesting to see how patient he will be with his team facing the very real possibility of digging themselves an 0-2 hole in this series.