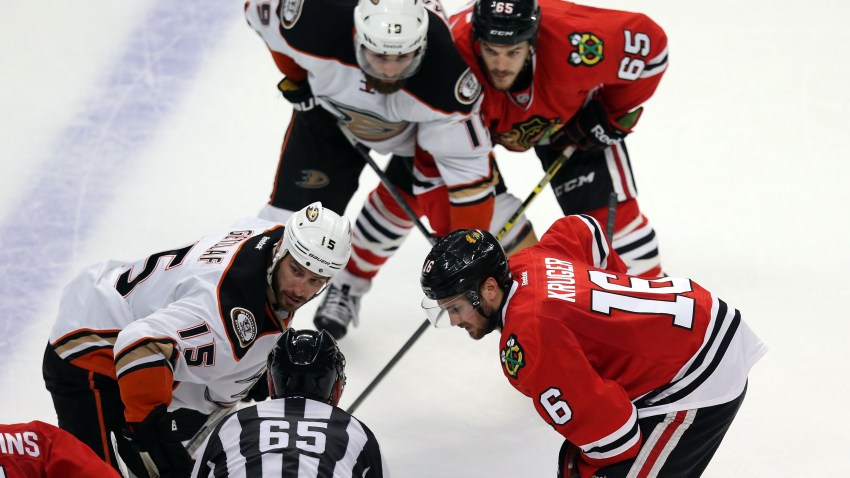 The Chicago Blackhawks have been criticized throughout the season for their shallow defensive depth, but with Michal Rozsival out of the lineup and Kimmo Timonen not playing like his old self after returning from blood clots in his legs, things are looking worse than ever for Chicago.
That's because the team is piling minutes onto its top four defensemen, and they're starting to show some wear and tear in the process.
Duncan Keith is leading the way, playing nearly 37 minutes per game so far in the Western Conference Final against the Anaheim Ducks. Brent Seabrook isn't far behind at nearly 34 minutes, while Niklas Hjalmarsson has also cracked the half hour mark at 31:30.
Those numbers by themselves are bad, but the Blackhawks are also running into a serious issue in this series: they're getting hit early and often by the Ducks.
So far in this series, the Ducks have racked up 220 hits against Chicago, and 107 of them have targeted the team's top four defensemen. That is a lot of punishment to take on its own, but when added to the extra ice time each player is getting thanks to the shallow defensive depth and the five overtime periods that have already been played in this series, it's clear that there is a potential issue here.
With all of those numbers floating around this series, it would stand to reason that Game 5 could end up being the big test to determine whether the Hawks' blue liners will break, or whether they will stand firm and remain effective.
The Ducks have only lost once on home ice so far in this postseason, and they are going to be eager to jump out to a good start and force the Blackhawks to play from behind.
If the Blackhawks are able to withstand that initial push, then things could potentially work out in their favor and see them gunning for the series victory on Wednesday night. If that physicality ends up finally breaking them and leads to breakdowns in discipline and positioning, then the Hawks could find themselves backed against the wall in a must-win situation at the United Center.
The fate of the Hawks in these playoffs rests largely on this game, and it's the defense that will have the biggest say in determining the outcome.