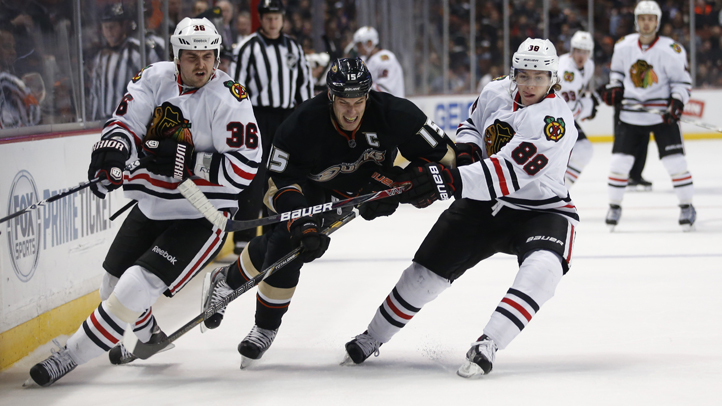 When the Chicago Blackhawks lost to the Anaheim Ducks on Wednesday night, most fans took a look at the standings and realized that the Hawks lead had shrunk to only three points, and that Anaheim still had a game in hand.
The problem for Chicago, however, might be deeper than that. Tim Sassone of The Daily Herald took a gander (no pun intended) at the schedule today, and realized that by the time the Hawks play again on Monday, they could be out of first place in the West:
"By the time the Blackhawks play again on Monday against Los Angeles at the United Center, they could be out of first place in the Western Conference for the first time all season….
"With 18 games to play in the shortened NHL season and a playoff spot all but assured thanks to their 24-3-3 record, winning the West and securing home ice throughout the conference playoffs should be the Hawks' main objective the rest of the way."
Yes, it comes across as "stating the obvious," but it needed to be said. Chicago has been viewed as this juggernaut by not only fans in the Windy City, but also by media types throughout the league. Their exciting start that garnered national attention pretty much cemented them as Stanley Cup favorites in the minds of folks everywhere, but clearly, the Ducks didn't get that memo.
For those thinking that it wouldn't be an issue if the Hawks were to fail to get that home ice advantage in the postseason, they need look no further than at Anaheim's record at home to see the peril Chicago's Cup chances would be in if the road to the finals travels through southern California. The Ducks have not lost a game at home in over two months, and have beaten several quality teams in the process, including the Hawks, the San Jose Sharks, and the Los Angeles Kings, whom they hung seven goals on earlier this month.
Yes, the Hawks are very solid on the road, and they have demonstrated conclusively that they have a significant home ice advantage in the playoffs, but this is no reason to be over-confident at this point. They need to throw everything they can into getting the Ducks into their rearview mirror once and for all, or else this season that has seemingly been pre-ordained for victory could turn into a nightmare when the calendar flips to May.