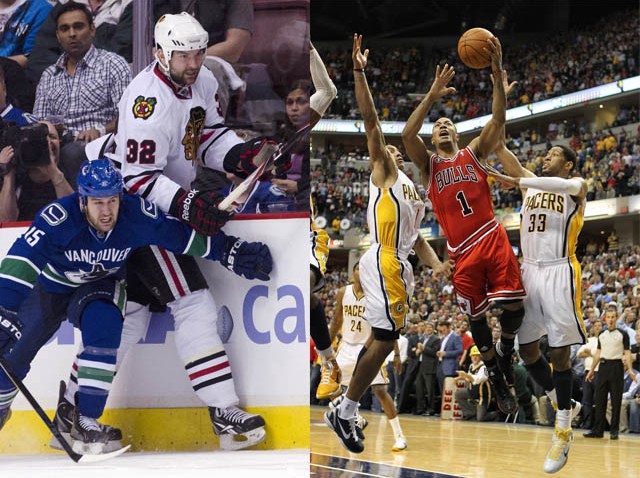 On Thursday night, two Chicago teams won playoff games while nearly a continent from each other. Both the Bulls and the Blackhawks walked away with huge playoff wins, despite the rough play of the Pacers and Canucks. Both teams were also smart enough not to take the bait.

In the Blackhawks game, Dave Bolland had his head slammed into the boards by Dan Hamhuis. Bolland was just coming off of a stint on the injured reserve because of a concussion, so he was a little sensitive about having his melon targeted again. But instead of getting Hamhuis a skate upside the head, Bolland skated off and took out his anger on his stick. That earned him a game misconduct, but that's better than the penalty that retaliation could have brought.

A few hours earlier and 2,300 miles away, Bulls superstar Derrick Rose was also targeted. The Pacers had been throwing hard fouls on Rose for much of the series, but Jeff Foster fouled Rose without going anywhere near the ball. Foster has eight inches and 60 lbs. on Rose, but the MVP candidate still let Foster know that he had crossed the line. They exchanged words, but with the help of his teammates, Rose walked away.

Because of their smart actions, the Bulls are up 3-0 on the Pacers. With a No. 1 seed, they are in a good position to sweep the Pacers on Saturday in Indianapolis. The Blackhawks came back from the brink of getting swept, and will try to tie up the series with Vancouver on Sunday at the United Center.

The professional behavior of both the Bulls and Blackhawks are exactly why it's easy to get excited about both these teams this spring. They could have been dragged down into fights that would endanger their playoff runs. In fact, Comcast Sports Net commentators and former Bulls Scottie Pippen and Stacey King were begging the Bulls to throw some hard fouls to keep the Pacers in check.

But both the Bulls and Blackhawks took the classy road, winning their games while keeping a cool head and exhibiting champion-like behavior.
Copyright FREEL - NBC Local Media