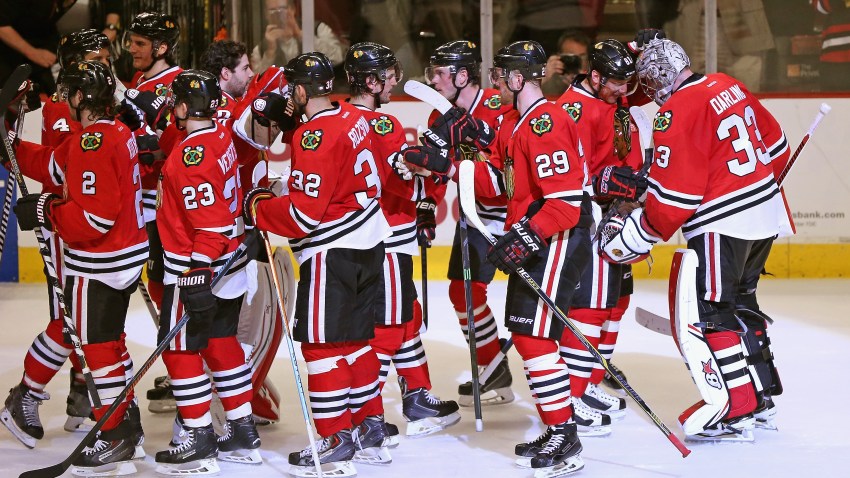 Thursday night was a big night in terms of determining the results of the Western Conference playoff race, with two teams clinching playoff spots and another team moving back into the second wild card spot.
The two teams that clinched spots both play in the Central Division, with the St. Louis Blues clinching a playoff berth thanks to their 4-1 victory over the Calgary Flames. The Chicago Blackhawks also punched their ticket into the Stanley Cup playoffs thanks to a 3-1 victory over the Vancouver Canucks at the United Center.
Those two victories by Central teams over denizens of the Pacific Division also helped out the Los Angeles Kings, who are trying to get into the postseason to defend their Stanley Cup championship. The Kings helped their own cause with an 8-2 pasting of the Edmonton Oilers, and the victory moved them back into a tie with the Winnipeg Jets for the second wild card spot in the West. The Kings currently hold the tiebreaker over the Jets, with 36 regulation or overtime victories to their credit.
The victory also moved the Kings back to within a point of the Flames for third place in the Pacific Division. Getting into that spot would be important, because the Kings could then avoid facing either the Anaheim Ducks or the Central Division champion in the first round of the postseason and instead face the Canucks.
As it stands right now, the Kings would be playing against the Ducks in the first round, with the Predators squaring off against the Minnesota Wild. Minnesota also lost on Thursday, falling 3-2 to the New York Rangers (who wrapped up the Metropolitan Division title with the victory). The Central Division race would have the Blues facing off with the Blackhawks in the opening round, with St. Louis holding a narrow one point lead over Chicago with two games left to play against their rivals from the Windy City.
The Central race could tighten up even more on Friday night, as the Blues travel down to Dallas to take on the Stars and the Blackhawks head east to Buffalo to tangle with the Sabres. A win would move the Blues into a tie for first place in the division with the Predators (although Nashville would hold the ROW tiebreaker), and a win for the Blackhawks would move them to within a point of Nashville in the standings.