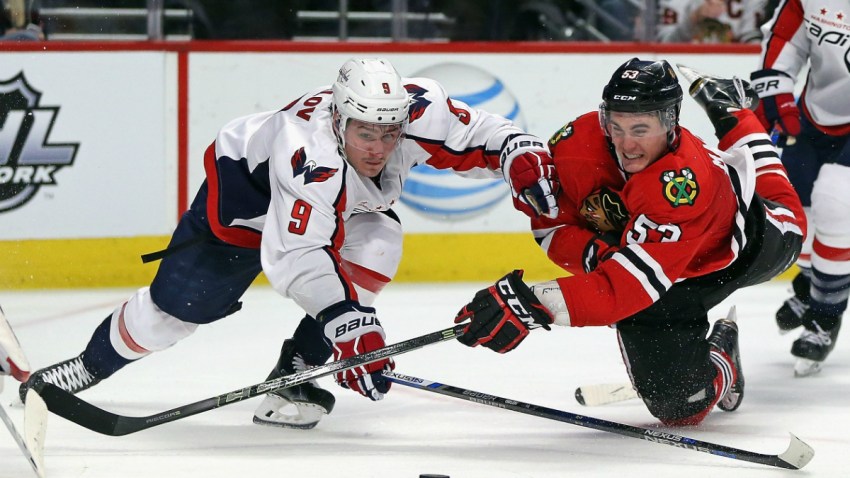 Two of the top teams in the NHL did battle on Sunday afternoon, and the Chicago Blackhawks came out on the winning end as they beat the Washington Capitals 3-2.
A late power play goal by Evgeny Kuznetsov helped make the game closer, but it wasn't enough as Dennis Rasmussen's goal, his first since Dec. 19, helped the Blackhawks to an important victory over the team with the best record in the NHL.
The victory pushes the Blackhawks back into first place in the Central Division, one point ahead of the Dallas Stars in the standings.
Early on in the game, the Capitals got the majority of the scoring chances, and they got on the board first. On a power play, the Capitals fired the puck quickly around the ice, and it eventually found its way to Justin Williams. The winger's shot was stopped by Corey Crawford, but Marcus Johansson smacked the rebound out of midair and into the net to make it a 1-0 game.
Just 30 seconds later, the Blackhawks tied things up. This time it was a Williams mistake that ended up costing the Capitals, as he turned the puck over to Trevor van Riemsdyk. The defenseman made a tremendous read on the play and slid a pass into the crease, where Patrick Kane was waiting. The forward flipped a backhanded shot past Braden Holtby, tying the game at 1-1.
That was the score of the game through the end of the first period and the vast majority of the second, but after some intense pressure, it was Chicago that grabbed the lead. Teuvo Teravainen made the Capitals pay on a power play, skating into the middle of the ice and drawing attention from several Capitals defenders. The winger then found Jonathan Toews in the slot, and the captain ripped a shot past Holtby to give Chicago a 2-1 lead after two periods of play.
Later in the third period, the Blackhawks scored what would turn out to be a critical insurance goal. Richard Panik won a puck battle in the offensive zone corner, and then using a soccer kick he pushed a pass out to Rasmussen for a one-timer goal and a 3-1 lead for the Blackhawks.
The Capitals did score a goal late in regulation as Kuznetsov beat Crawford on a deflected shot, but it wasn't enough as the Hawks were able to hang on and grab the critical victory.