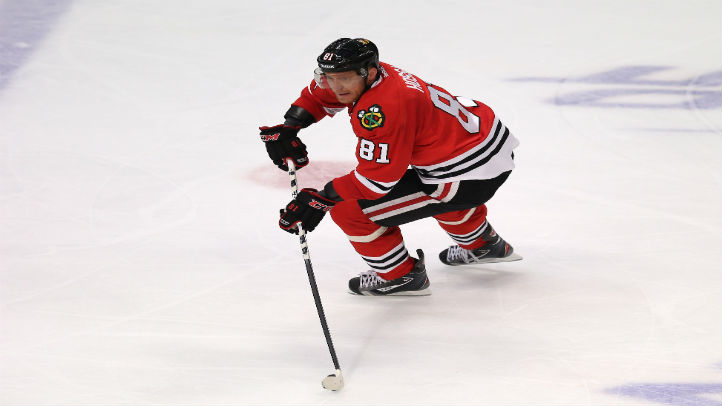 The 2014 Winter Olympics in Sochi, Russia are drawing ever closer, and as such the teams who will be competing overseas are making the final preparations to announce their rosters ahead of the January 7th roster deadline.
With that in mind, we are going to take a look at the members of the Chicago Blackhawks who have the best shot at representing their countries, as well as some of the surprise additions that could make the Hawks' Olympic contingent even bigger.
We covered Sweden yesterday, and today we're going to hit the rest of Europe:
Team Slovakia:
Back in 2010, the Blackhawks had two players on Slovakia's roster, as Marian Hossa and Tomas Kopecky (now with the Florida Panthers) made the trip to Vancouver.
Four years later, Hossa is still arguably the best player from the nation, and despite having some injury issues recently, there is no way that he would decline an invitation to the Olympics. He is going to be turning 35 years old in January, so this might very well be his last chance at Olympic gold, and it would be silly to think he wouldn't jump at that opportunity.
One Blackhawk who could potentially find himself on the Slovakian roster as well would be Michal Handzus. He also played in the 2010 Games with Hossa, and is currently seventh in the NHL among Slovakian forwards with 10 points in 23 games with the Blackhawks. He has been battling the injury bug off and on this season, and even though he's clearly lost a step in terms of his speed, his veteran savvy and grit could be a much-needed addition to a team that won't be loaded with NHL talent. His chances are about 70-30 of making the roster.
Czech Republic:
The Czechs have a lot of defensemen who would be capable of making a big impact in Sochi, including Marek Zidlicky and Jakub Kindl, but some injury concerns on the back-end of their defensive corps could open up a spot for Michal Rozsival on the roster.
Rozsival is currently involved in a competition for playing time with Mike Kostka and Sheldon Brookbank with the Blackhawks, but he was an integral part of the team's Stanley Cup run over the summer, and that ability to step up on the big stage makes him an intriguing possibility for the Czechs.
If we had to guess, we'd say that Rozsival has about a 50-50 shot at making the roster at this point, but if Rostislav Klesla can't stay on the ice, those chances would improve somewhat.