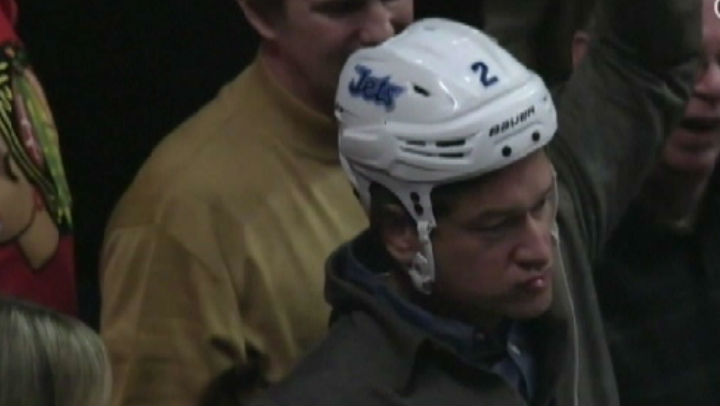 In Wednesday night's game between the Chicago Blackhawks and Winnipeg Jets, the action wasn't limited to what happened on the ice, as some fans got involved with a play involving Chicago forward Brandon Bollig and Winnipeg defenseman Adam Pardy.
On the play, Bollig drilled Pardy into the glass near the goal line in the Winnipeg zone. A panel of glass fell out, and the two players ended up partly over the boards. In the ensuing fracas, which involved several other players jumping in to defend their teammates, a fan ripped Pardy's helmet off and put it on his head in a celebratory manner. Another fan threw a drink on Pardy as well.
While it was difficult to see what happened after that play concluded, the Blackhawks issued a statement about the incident on Thursday evening to clarify the matter:
"We have spoken to those involved in the incident with an opposing player late in our home game last night at the United Center. The individuals were immediately ejected from the arena to preserve the safety of everyone in attendance, including other fans, players, and officials. We have also been in communication with the Winnipeg Jets and the NHL to convey our organization's apologies."
The Hawks obviously did the right thing here in apologizing both to the league and the Jets, but credit has to be given as well to Pardy in this situation. He could have easily escalated things if he had gone after the fan that had stolen his helmet, but instead he showed great restraint in not making a bad situation worse.
The two teams don't play again in Chicago until January 26th, but do play on November 21st up in Winnipeg.