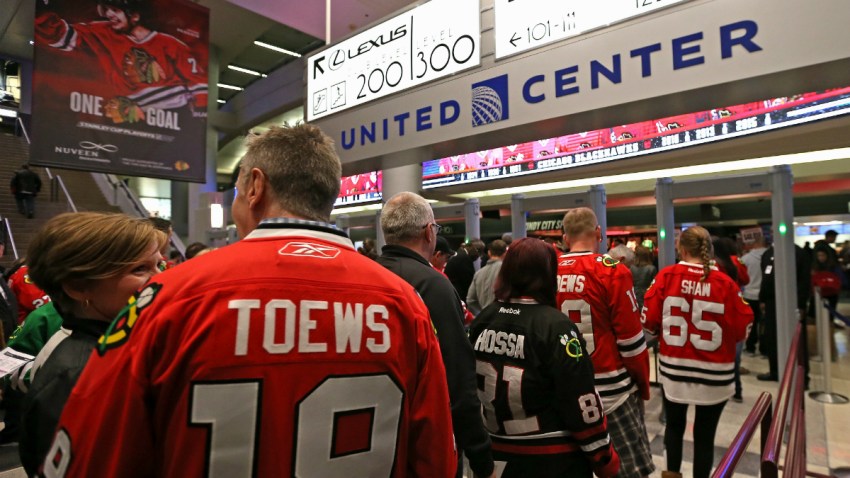 The Chicago Blackhawks will get their season underway in a little over a month, and on Wednesday the team announced their TV broadcast schedule.
Comcast SportsNet Chicago will air 51 Blackhawks games this year, with 20 more airing on WGN-TV during the fall and winter. The remaining 11 games will air exclusively on the networks of NBC, with NBCSN and NBC airing those contests nationally.
The season begins on Oct. 12 with a playoff rematch against the St. Louis Blues. That game will air exclusively on NBCSN, and the team's local debut will take place on Oct. 14 against the Nashville Predators in a game that will air on CSN Chicago.
Here is the Blackhawks' full television schedule for the season:
*Bold games are on national television. All times are Central time zone.
Oct. 12: vs. St. Louis 7:00 p.m. NBCSN
Oct. 14: at Nashville 7:00 p.m. CSN Chicago
Oct. 15: vs. Nashville 7:30 p.m. WGN
Oct. 18: vs. Philadelphia 7:30 p.m. CSN Chicago
Oct. 21: at Columbus 6:00 p.m. CSN Chicago
Oct. 22: vs. Toronto 6:00 p.m. WGN
Oct. 24: vs. Calgary 7:30 p.m. CSN Chicago
Oct. 28: at New Jersey 6:30 p.m. WGN
Oct. 30: vs. Los Angeles 6:00 p.m. CSN Chicago
Nov. 1: vs. Calgary 7:30 p.m. CSN Chicago
Nov. 3: vs. Colorado 7:30 p.m. CSN Chicago
Nov. 5: at Dallas 7:00 p.m. WGN
Nov. 6: vs. Dallas 6:00 p.m. CSN Chicago
Nov. 9: at St. Louis 7:00 p.m. NBCSN
Nov. 11: vs. Washington 7:30 p.m. CSN Chicago
Nov. 13: vs. Montreal 6:00 p.m. WGN
Nov. 15: at Winnipeg 7:00 p.m. CSN Chicago
Nov. 18: at Calgary 8:00 p.m. CSN Chicago
Nov. 19: at Vancouver 9:00 p.m. CSN Chicago
Nov. 21: at Edmonton 8:00 p.m. CSN Chicago
Nov. 23: at San Jose 9:00 p.m. WGN
Nov. 25: at Anaheim 3:00 p.m. CSN Chicago
Nov. 26: at Los Angeles 9:30 p.m. WGN
Nov. 29: vs. Florida 7:30 p.m. CSN Chicago
Dec. 1: vs. New Jersey 7:30 p.m. CSN Chicago
Dec. 3: at Philadelphia 12:00 p.m. WGN
Dec. 4: vs. Winnipeg 6:00 p.m. CSN Chicago
Dec. 6: vs. Arizona 7:30 p.m. CSN Chicago
Dec. 9: vs. New York Rangers 7:30 p.m. CSN Chicago
Dec. 11: vs. Dallas 6:00 p.m. CSN Chicago
Dec. 13: at New York Rangers 6:00 p.m. CSN Chicago
Dec. 15: at New York Islanders 6:00 p.m. CSN Chicago
Dec. 17: at St. Louis 7:00 p.m. CSN Chicago
Dec. 18: vs. San Jose 6:00 p.m. WGN
Dec. 20: vs. Ottawa 7:30 p.m. CSN Chicago
Dec. 23: vs. Colorado 7:30 p.m. CSN Chicago
Dec. 27: vs. Winnipeg 7:30 p.m. CSN Chicago
Dec. 29: at Nashville 7:00 p.m. CSN Chicago
Dec. 30: at Carolina 6:30 p.m. WGN
Jan. 2: at St. Louis 12:00 p.m. NBC
Jan. 5: vs. Buffalo 7:30 p.m. CSN Chicago
Jan. 6: vs. Carolina 7:30 p.m. CSN Chicago
Jan. 8: vs. Nashville 6:00 p.m. WGN
Jan. 10: vs. Detroit 7:30 p.m. WGN
Jan. 13: at Washington 6:00 p.m. CSN Chicago
Jan. 15: vs. Minnesota 6:00 p.m. NBCSN
Jan. 17: at Colorado 8:00 p.m. CSN Chicago
Jan. 20: at Boston 6:00 p.m. CSN Chicago
Jan. 22: vs. Vancouver 6:30 p.m. WGN
Jan. 24: vs. Tampa Bay 7:30 p.m. CSN Chicago
Jan. 26: vs. Winnipeg 7:30 p.m. CSN Chicago
Jan. 31: at San Jose 9:30 p.m. CSN Chicago
Feb. 2: at Arizona 8:00 p.m. CSN Chicago
Feb. 4: at Dallas 7:00 p.m. WGN
Feb. 8: at Minnesota 7:00 p.m. NBCSN
Feb. 10: at Winnipeg 7:00 p.m. CSN Chicago
Feb. 11: at Edmonton 9:00 p.m. WGN
Feb. 18: vs. Edmonton 9:00 p.m. WGN
Feb. 19: at Buffalo 5:00 p.m. NBCSN
Feb. 21: at Minnesota 7:00 p.m. CSN Chicago
Feb. 23: vs. Arizona 7:30 p.m. CSN Chicago
Feb. 26: vs. St. Louis 6:30 p.m. NBCSN
March 1: vs. Pittsburgh 7:00 p.m. NBCSN
March 3: vs. New York Islanders 7:30 p.m. WGN
March 4: at Nashville 7:00 p.m. CSN Chicago
March 9: vs. Anaheim 7:30 p.m. CSN Chicago
March 10: at Detroit 6:30 p.m. CSN Chicago
March 12: vs. Minnesota 6:00 p.m. NBCSN
March 14: at Montreal 6:30 p.m. CSN Chicago
March 16: at Ottawa 6:30 p.m. CSN Chicago
March 18: at Toronto 6:00 p.m. CSN Chicago
March 19: vs. Colorado 6:00 p.m. WGN
March 21: vs. Vancouver 7:30 p.m. CSN Chicago
March 23: vs. Dallas 7:30 p.m. CSN Chicago
March 25: at Florida 6:00 p.m. WGN
March 27: at Tampa Bay 6:30 p.m. CSN Chicago
March 29: at Pittsburgh 7:00 p.m. NBCSN
March 31: vs. Columbus 7:30 p.m. CSN Chicago
April 2: vs. Boston 11:30 a.m. NBC
April 4: at Colorado 8:00 p.m. WGN
April 6: at Anaheim 9:00 p.m. CSN Chicago
April 8: at Los Angeles 5:00 p.m. CSN Chicago