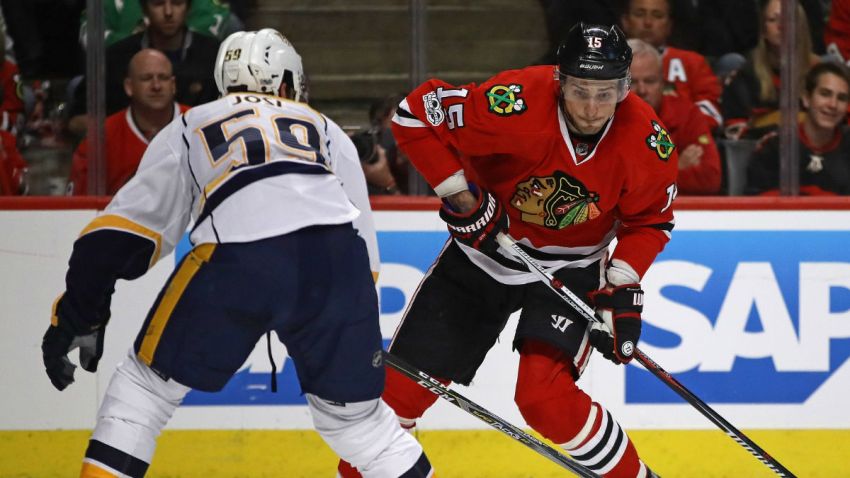 A day after they stayed away from the ice, the Blackhawks returned to it Wednesday afternoon as they prepared for a crucial Game 4 against the Predators.
Though Joel Quenneville and his players firmly believe they can rally from the deep hole they're in, the Hawks coach didn't shy away from the obvious.
"We've come back from all different scenarios, some awful spots," Quenneville said. "This might be the worst spot we've ever been in."
A 3-0 series deficit might provoke radical change for some coaches, but not for Quenneville. According to Jonathan Toews, nothing out of the ordinary happened during Wednesday's hour-long workout.
"Nope. Just trying to keep it light and loose and work hard, get what we need out of it, and get our minds in the right place for tomorrow," Toews said.
The Hawks captain acknowledged the Predators have executed their game plan almost perfectly, but believes tomorrow's outcome depends more on what he and his teammates do.
"It's up to us to rise to the occasion and be better than we have been," Toews said. "We always say it's about how we prepare and what we do on the ice, and that's still going to be our focus in tomorrow's game."
During the regular season, six Blackhawks scored at least 20 goals. During the playoffs, however, only one of those six has tallied: Patrick Kane.
Kane says the team's top players need to be at their best in Game 4.
"You need your best players this time of year to step up and be your best players," he said. "I think throughout the playoffs, as time goes on, you see depth guys step up and have big games. But at times like this, I think it's the top guys that probably need to lead the charge."
Quenneville agrees.
"We always find that when we're in some tough spots, our top guys always find the way to lead the charge and find the way to overcome all obstacles. We're gonna need them," he said.
And if they can get production from Toews, that'll help greatly. He hasn't scored a playoff goal in the Hawks last 12 games dating back to Game 5 of the 2015 Stanley Cup Final.
"It's something I'm obviously well aware of," Toews said. "No better moment than a game like tomorrow. You've got to go out there lucky feeling like you're going to work for that bounce. I'm trying to stay patient, smart, do the right things."
And hopefully those things will help keep the Hawks' season alive.