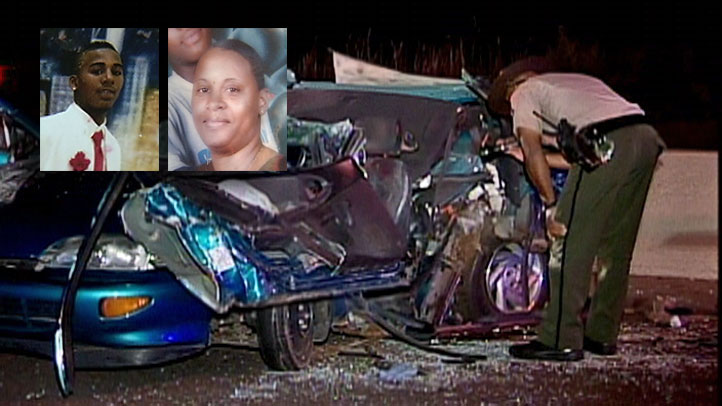 A teen, his mother, and another man were killed in an early Sunday morning collision with an SUV on the Bishop Ford Freeway.

Derrick Young, 18, of Chicago; his mother, LaToya Williams, 35, also of Chicago, and 27-year-old Jermaine Garner, of Calumet City, were killed in the crash that happened shortly after 3 a.m. on the southbound lane of Interstate 94 near 130th Street.

"Right now there are no witnesses to the accident, but on a preliminary investigation it appears that the passenger vehicle was either slow-moving or stopped in the center lane when the SUV rear-ended the vehicle," said Illinois State Police Master Sgt. Jeanette Beck.

A man in his 60s was driving the Toyota Highlander. He told police that he didn't see the car in the center lane because it was stopped and didn't have its lights on. He was not hurt but this daughter, a 38-year-old woman who was a passenger, was taken to Roseland with minor injuries, said ISP District Chicago Master Sgt. Michael. They were both wearing seatbelts.

Young was behind the wheel of the Chevrolet Cavalier. His cousin said they were taking a family friend to his house when the crash happened.

Williams was a front seat passenger and was ejected from the vehicle, authorities said. She wasn't wearing a seatbelt. Garner and Young were wearing seatbelts, and ISP District Chicago Master Sgt. Joe Stangl said they had to be cut out of the car.

All were taken to Roseland Community Hospital where they were pronounced dead, said Witt.

Williams was a single mother raising her five children. But she also opened her home and heart to other children, said her sister, Debbie Williams.

"She was a good mother and a great auntie and everything. She was real kind-hearted and she made sure that everyone was taken care of and everything," said Williams.

The crash leaves a huge void for everyone Williams knew.

"We don't know how she was doing it. Her strength was amazing. And she always used to say, 'I don't know how I'm doing it, either, but I'm doing it, by God's grace,'" said Williams' niece, Sheena Ray.

Young, the oldest of Williams' children, was a recent high school graduate. He had plans for college, Ray said, but put that on hold so he could work and help support his family.

"He was a great example for his younger siblings and he was a great help to his mother. There was a reason for him getting a job... so that he could help provide for his younger siblings and help his mother," said Ray. "As the oldest, he felt like he was the man of the family and that he needed to step up, you know, get a job school would be later."

Inclement weather or roadway conditions were not factors in the wreck and there were no indications as of 8:30 a.m. that drugs, speeding or alcohol were to blame, Witt said.

All lanes are open as of 8:30 a.m. The driver of the SUV was not cited.
Copyright CHIST - SunTimes