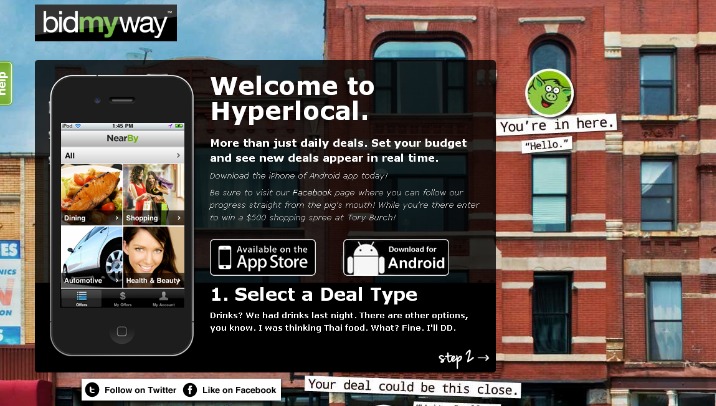 John Shave is used to taking on the big boys. In the '90s, the local entrepreneur founded Globalcom, a telecommunications company that was just as ambitious as its name suggests. In 1993 he turned a $5,000 investment into the country's largest resellers of AT&T phone services in Chicago, and eventually sold for $58.5 million to First Communications in 2008.
Shave knows what he's doing.
And what he's doing now is stepping into the daily-deal ring with BidMyWay.com. It's essentially Groupon mashed up with eBay: You select the kind of deal you want (drinks or food), set your budget, and then get sent potential offers that fit your criteria. (Soon the site will allow you to pick the neighborhood, too, if you want to avoid the CTA.) Since Shave is once again taking on the big boys, I gave him a call to see what advice he has to offer aspiring entrepreneurs wanting to bigger without leaving Chicago.
This is pretty broad, but what advice can you offer to others who hope to follow in your footsteps and grow a national-scale company out of Chicago?
John Shave: Basically, with entrepreneurs, I think it's in our DNA. I put myself through college selling bibles and encyclopedias door to door. Growing up I coulda and worked for an uncle or a cousin but I decided to perfect skills on door-to-door sales and rejection. [Laughs.] But I have a philosophy that if you help enough people get what they want, you'll have no problem getting what you want. Always surround yourself with people smarter than you. Basic stuff. The entrepreneur may create the vision, but the entrepreneur can't build a sustainable operation without great people who follow the vision and walk through the walls for their leader.
How can entrepreneurs get such enthusiastic followers?
John Shave: I don't like to pass on advice; I like to pass on my mistakes. Hopefully people learn from those, because I've made a whole bunch of 'em. [Laughs.] My last career, navigating through telecom, was unbelievable, David, because we had multi-billionaire competitors. We always had scrappy regional competitors. And we had a commoditized product, which is local long-distance Internet phone service. I like to say that I've been bloodied in the battle of telecom, and after surviving the traumatizing experience for 13 years I can pretty much survive in any environment.
Some simple lessons I'd pass on is you have to maintain your humility. As an entrepreneur you work for yourself, and when you start to work for yourself, you start to live in your domain. If you don't maintain your humility amongst your customers and amongst your co-workers and those who work with you, then that's going to be a recipe for disaster.
You always need to take care of the customer. If you don't, someone else will.
You've always gotta cash in your "cool card." What I mean by that is there's always someone smarter, richer, more accomplished, or more humble. You've always gotta maintain your humility. No matter how successful you are, there's always somebody who has that additional trait you should strive for. Once you start to slide, you slide downhill.
I've always said that you've got to give back to your communities, because at the end of the day, when you're gone, your money's not there anymore because you're not there anymore. As entrepreneurs we think differently, our DNA is different, we're risk-takers, we follow our dreams.
There's a quote that I'll pass onto you that I picked up along the way, and it's about blind ambition. Blind ambition is when you make your mind up for a vision or a goal, and you just keep going, you keep pushing, and you persevere until you have some degree of success. Even though it may take 15 times the effort to get there, with blind ambition you ultimately get to that point of success to some degree.
Did you have rules like this you enacted while at Globalcom?
John Shave: I had two rules in business. Rule No. 1: never lose money. Rule No. 2: always follow rule No. 1. [Laughs.] You gotta run a business to make a profit. If you don't make a profit, you can't stay in business. I think a fine point it so respect and empower your employees; they'll walk through walls for you.
What steps are you taking to keep BidMyWay.com on track like that?
John Shave: Basically last September I started looking at the daily-deal business, and it's a leaf on a tree in autumn. It's going to fall off the tree, but it doesn't mean it's going away. It's evolving into something called hyper-local mobile. It's the future. I have a suspicion that this is going to be a very large operation, and I'm already thinking ahead with individuals that can complement when this goes into hyper-growth in hiring hundreds of people, and how we can maintain the quality of service for our customers. We've always gotta be looking around the corner. We're flying down the road at 90 miles an hour, and it's a hairpin turn, and we've gotta be prepared for that truck in the wrong lane around the corner so we don't swerve and go off the edge. Already planning ahead for the future.