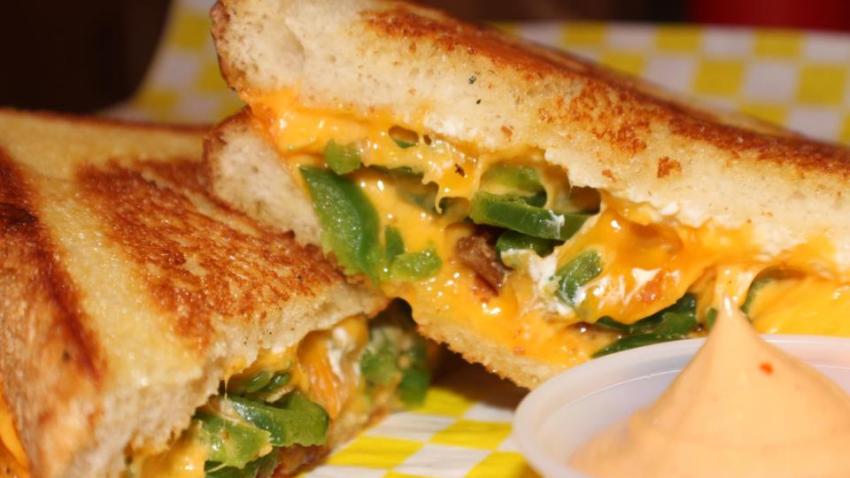 April is National Grilled Cheese Month – a holiday undoubtedly worth celebrating. Here are 12 of Chicago's best mouthwatering masterpieces oozing with cheesy goodness to bite into:
1. Truffled Grilled Cheese with irish cheddar, taleggio, raclette and black truffle
Bangers & Lace
Wicker Park | 1670 W. Division St.
bangersandlacebar.com
2. The "Wolff" Grilled Cheese with double smoked bacon and fresh jalepenos on brioche bread
Scout Waterhouse and Kitchen
South Loop | 1301 S. Wabash Ave.
It's #NationalGrilledCheeseDay !! There is no better place to eat a grilled cheese than @TheScoutChi!! #southloop pic.twitter.com/dNJv3R3hZa — The Scout (@TheScoutChi) April 12, 2015
3. Open-Faced Grilled Cheese with butterkase, cheddar, squash puree, fried eggs and brioche
Fountainhead
Ravenswood | 1970 W. Montrose Ave.
fountainheadchicago.com
4. Gouda and Montamore Grilled Cheese with pork guanciale and smoked tomato
Little Goat Diner
West Loop | 820 W. Randolph St.
littlegoatchicago.com
(function(d, s, id) { var js, fjs = d.getElementsByTagName(s)[0]; if (d.getElementById(id)) return; js = d.createElement(s); js.id = id; js.src = "//connect.facebook.net/en_US/sdk.js#xfbml=1&version=v2.3"; fjs.parentNode.insertBefore(js, fjs);}(document, 'script', 'facebook-jssdk'));
5. The 16-inch Clydesdale grilled cheese served with savory tomato basil dip
The Pony
Lakeview | 1638 W. Belmont Ave.
theponychicago.com
6. "PB & J" Grilled Cheese with pear, brie cheese and blueberry jam on whole grain bread
South Water Kitchen
The Loop | 225 N. Wabash Ave.
southwaterkitchen.com
7. Pimento Cheese Grilled Cheese with chow chow on toasted rye bread
Big Jones
Andersonville | 5347 N. Clark St.
bigjoneschicago.com
(function(d, s, id) { var js, fjs = d.getElementsByTagName(s)[0]; if (d.getElementById(id)) return; js = d.createElement(s); js.id = id; js.src = "//connect.facebook.net/en_US/sdk.js#xfbml=1&version=v2.3"; fjs.parentNode.insertBefore(js, fjs);}(document, 'script', 'facebook-jssdk'));
8. Fig & Arugala Grilled Cheese
Blue Door Farm Stand
Lincoln Park | 843 W. Armitage Ave.
bluedoorfarmstand.com

9. CB & J Grilled Cheese pan-fried with cashew butter, fig jam and raclette cheese on sourdough
Hopleaf
Uptown | 5148 N. Clark St.
hopleaf.com
10. Roasted Portabella Brie and Swiss Mushroom Melt with house-made kraut, caramelized onion and dijonnaise on house-made cornmeal country bread
Southport Grocery & Cafe
Lakeview | 3552 N. Southport Ave.
southportgrocery.com
11. The Stockin' Stuffer at Cheesie's Pub & Grub
Lakeview | 958 W. Belmont Ave.
cheesieschicago.com
Sandwich of the Month: The Stockin' Stuffer pic.twitter.com/xfLekQRgp7 — Cheesie's Pub & Grub (@CheesiesChicago) December 3, 2014
12. Classic Grilled Cheese and Tomato
Glenn's Diner
Ravenswood | 1820 W. Montrose Ave.
glennsdiner.com