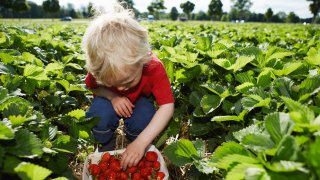 Strawberry picking season has arrived! Spend a day picking baskets of fresh, delicious strawberries this summer.
Visit a farm as soon as you can because the strawberry season is short, spanning from late May through July. Pack the car and make a day trip to the nearest strawberry farm.
Navigate your way around Illinois and beyond using the following farms as your starting point for the freshest berries.
Stade's Farm & Market
Heider's Berry Farm
Jefferies Orchard
Cody's Farm & Orchard
McCann Berry Farm
Tom's Farm Market
Johnson's Farm Produce
Thompson Strawberry Farm