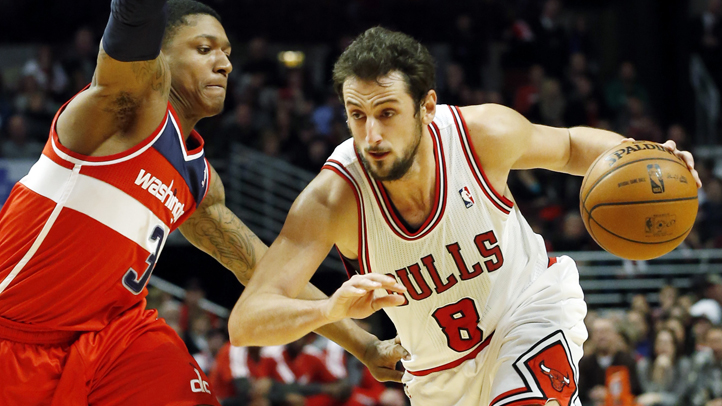 Marco Belinelli showed he can also be a force off the bench for the Chicago Bulls.
Belinelli returned to his role as a reserve and led the Bulls with 17 points in an 87-77 victory over the Washington Wizards on Saturday night.
Carlos Boozer added 15 points and 12 rebounds for the Bulls (16-12), who snapped a two-game losing streak. Luol Deng scored 11 points after injuring his right ankle Tuesday in a loss to Houston.
Bradley Beal led the NBA-worst Wizards (4-24) with 14 points.
Belinelli made 7 of 16 shots in a reserve role as Richard Hamilton returned to the starting lineup. Hamilton had missed 12 games because of a torn plantar fascia in his left foot.
"Marco was terrific," Bulls coach Tom Thibodeau said. "He has been playing well for a long time. He hit big shots and made big plays."
When Hamilton was sidelined, Belinelli averaged 15.3 points per game in 12 starts, compared to just five points in 14 games as a reserve.
Belinelli, who signed as a free agent with the Bulls in July, said his confidence has risen as he has adjusted to his team.
"The first couple weeks of the season, I was a little bit nervous, (did not have) too much confidence in myself," Belinelli said.
Kevin Seraphin had 12 points, and Emeka Okafor added 11 points and 18 rebounds for Washington, which has lost nine of 10.
The Wizards held a 56-49 rebounding edge.
"I just turned around, and the ball was in my hands," Okafor said. "It seemed like perfect timing a lot of times. It didn't start off that way. Actually, at the beginning, I couldn't grab one at all, but as the game went on, I found my flow."
Wizards leading scorer Jordan Crawford, averaging 16 points per game, sat out because of a left ankle injury.
The Wizards pulled to within three with 5:19 left after Okafor put back Shelvin Mack's missed free throw. But Belinelli answered with a 3-pointer, and Boozer hit a jumper for an 84-77 lead.
"It definitely wasn't pretty," the Bulls' Joakim Noah said. "Both teams shot pretty low percentages. We still have to play better and we still have to talk more on transition. We're a work in progress. We're happy we got back on the winning track."
Both teams struggled from the field as Chicago shot 39 percent, and the Wizards connected on 37 percent. Washington scored 51 points in the final three quarters after putting up 26 points in the first period.
"We didn't shoot the ball again very well," Wizards coach Randy Wittman said. "They're a good defensive team. They're going to make those things tough."
The Bulls hadn't played since Tuesday because their Wednesday night game against the Pacers was postponed due to snow in Indianapolis.
Chicago led 45-39 at halftime after shooting 39 percent. Deng led the Bulls with nine points. Seraphin had 10 points for the Wizards.
The Bulls opened the third quarter on an 11-4 run to take a 56-43 lead. The Wizards responded with a 15-4 spurt to pull within two with 3:35 left in the period. Chicago quickly pushed its advantage back to nine after a tip-in by Noah, a 3-pointer by Kirk Hinrich, and Belinelli's dunk.
Washington got back within three points early in the final quarter, but Chicago again had an answer. Nate Robinson made a layup, and Belinelli sank another 3-pointer to push the Bulls back in front by eight.
Thibodeau said Belinelli has gained confidence as the season has gone on.
"When you are new to a team, he was trying to fit in," Thibodeau said. "He was trying to learn the system. He has already proven to be a good player in this league, so it was a matter of time.
"Once he had a better understanding of his teammates, and they had a better understanding of him, he is good. He can score a lot of different ways."
The Wizards got off to a strong start, leading by as many as eight in the first quarter and taking a 26-22 lead at the end of the period.
Washington went cold in the second quarter, shooting 4 of 21.
Garrett Temple started at guard for the Wizards in place of Mack. Temple, signed by Washington on Tuesday, had 13 points Friday in a win over Orlando that snapped an eight-game losing streak.
Hamilton had nine points in 15 minutes Saturday. Thibodeau said he liked what he saw from Hamilton, especially when the veteran found a rhythm in the second half.
"We need his minutes. We need his shots. We need his points," Thibodeau said.
Belinelli replaced Hamilton with 4:38 left in the first quarter after Hamilton got off to a 2-for-5 start. Belinelli scored six points in the first half.
"In the first quarter, I tried to bring a little energy on defense and offense," Belinelli said. "Tonight was good."
Copyright AP - Associated Press