Before the unwashed masses head down to The Palmer House to see Hawks' players get introduced, and watch Second City actors perform some just-funny-enough sketches to attract the money of gape-mouthed tourists, they should know the Hawks have been busy.
Well, maybe the 'Hawks have been busy. We're still not quite sure, as this is how things work in the world of Twitter.
Twitter began hopping with someone claiming to have spoken to Michael Frolik's agent that he had agreed a three-year deal with a cap hit of $2.3 million. There hasn't been official confirmation on that yet, but with Frolik appearing at the Convention tonight and the Hawks having this fetish for announcing things there, people were putting two and two together and getting milk. Still, there's enough smoke here to think that Frolik is back in the fold. When the terms come out, we'll know more.
I was a big proponent of bringing Frolik back. He's not a top-6 player, I think we found that out definitively last year. He can't play center either. But there's a lot to work with. He's got exquisite hands, and isn't lost in his defensive zone either. He's not afraid of contact even though he's frequently being windshield wiper-ed off the ice after going splat. He keeps coming back for more. And though we only had four games of evidence, which is far too little of a sample size, Frolik and Dave Bolland appeared to have found a Lennon-McCartney type understanding. Bolland has always flourished with a creative on his wig, be it Martin Havlat or Kris Versteeg. Both they and Frolik have a one-on-one game that creates space. Hopefully this is all true.
The other move today is the far more interesting one, the signing of Sami Lepisto. Lepisto is 26, and has been a bit of a vagabond in his brief NHL career. He was a Capitals' pick, then shipped to Phoenix where almost all of his NHL experience comes from, and then last year was traded to Columbus for the end of the year. In his time in the NHL, Lepisto has been a pretty solid third pairing guy on very defensive teams. He's been a plus player in both plus-minus rating and Behind The Net Rating. Where things get interesting is if you study his numbers with the Capitals' AHL team. He twice cracked 45 points in a season, once doing so in just 45 games. Is this what the Hawks were eyeing? If so, Chris Campoli's days as a Hawk are over, and Lepisto's taking his minutes. Otherwise, the deal doesn't make a whole lot of sense, as the Hawks aren't in need of just another solid guy.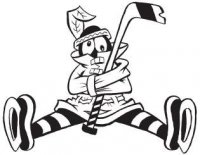 Sam Fels is the proprietor of The Committed Indian, an unofficial program for the Blackhawks. You may have seen him hocking the magazine outside the United Center at Gate 3. The program is also available for purchase online. Fels is a lifelong 'Hawks fan and he also writes for Second City Hockey .