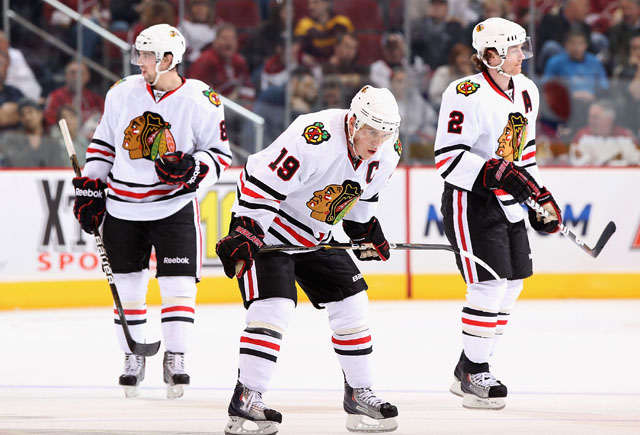 Rarely do I walk out of a Hawks game so confused. Usually I know exactly how to describe their effort and result, even if I miss some of the finer details before further review. But Saturday? No idea.
I know there are some things to be encouraged by. It is no small feat to overcome a two-goal deficit on the road, especially against a Phoenix side that can lock you down as well as anyone when they want to. Considering it was the latter half of a back-to-back set (and the last game of this road trip that just wouldn't die), the Hawks showed some of that testicular fortitude I had begged for to get a point.
I don't get upset about shootouts, but that only leads to more confusion as everyone around me treats it the same as a loss, even though the Hawks are the width of the nub of Bryzgalov's stick from being tied in the shootout. It's a lottery, it hurts to lose a valuable point on a game of chance, and maybe that's what people confuse for the sting of a loss. I don't know.
And yet during the 2nd period the Hawks looked like they were checking out. So I don't know if I'm impressed that they were able to reverse that tide and scrap a tie or angry that they once again didn't bring it for 60 minutes. Essentially, we're all back where we started, with less time to do something about it. The Hawks still have to rip off a great 10-game streak, but they only have 26 games to do it. We, and they, can't wait any longer.
Other thoughts:
-These defensive pairings are just about the least sensical in the world, and it's hurting the Hawks badly. This Duncan Keith-Nick Leddy pairing has cost them two vital goals when they either were both pinching or both not fighting in front of the net to tie up sticks. Why would you take all your d-men, figure out who does the same thing, and then put them together? This is only topped by making your best defenseman all year, Brian Campbell, a 5th guy. This has to change on Wednesday. If Quenneville doesn't want to go back to his old pairings, than a Campbell-Seabrook, Keith-Hjalmarsson, Leddy-whoever would be just fine.
-The patience that Campbell showed before setting up Keith for the equalizer in Phoenix is something I hope Keith took copious notes on.
-Something has to be done about the second line. Marian Hossa actually showed a pulse, but it's hard to believe a case of vertigo is just gone. Is Michael Frolik seriously not a better option at center than Tomas Kopecky? Because he'd have to be pretty bad not to be.
-John Scott on a breakway. What a perfect metaphor for this season.
Whatever we think, the Hawks season rides on this week, and we'll look at how that breaks down later. It's not over by a long shot.