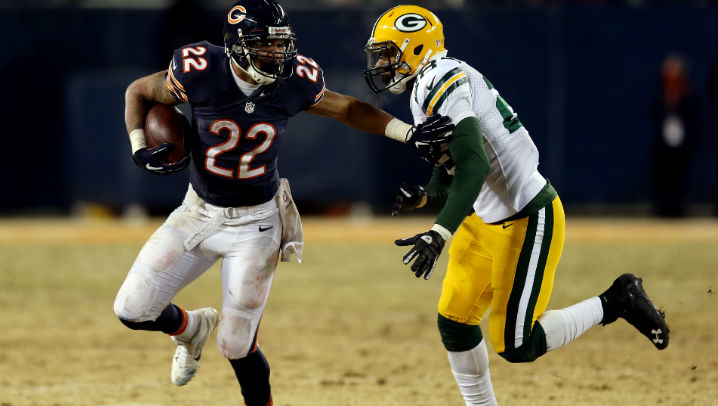 If you are an avid Twitter user, odds are that you've seen one of the many posts lately about "building a team" using a set amount of money. It started out with a basketball-themed list, and other sports like hockey and baseball got involved as well.
Finally though, the Chicago Bears are being represented in a list concocted by Lester Wiltfong over at Windy City Gridiron. With a budget of $20, Wiltfong challenged readers to come up with their ideal Bears roster, and you get to choose between these players:
You have $20 to Build-A-Chicago #Bears All Time Roster. Who are you picking? http://t.co/JqoZoWnDIF pic.twitter.com/qqx9NyOBox — Lester A Wiltfong Jr (@wiltfongjr) June 10, 2014
With seven slots to fill, you have to be careful that you don't blow all your money on just a couple of positions. With that in mind, here is how we would spend our money:
QB: Erik Kramer $2

RB: Matt Forte $3

TE: Greg Olsen $2

WR 1: Curtis Conway $3

WR 2: Marty Booker $2

Special: George McAfee $3

Defense: 1985 Bears $5
At the quarterback position, it was difficult not to take Cutler for $4, but in building a team, some sacrifices have to be made, and Kramer is definitely a great value for $2. Forte was a pretty obvious choice at the running back position, although having a guy like Walter Payton would have been fantastic. Tight end was an interesting one, as Desmond Clark for $3 was an intriguing possibility (although Martellus Bennett for $4 is definitely not a smart investment), but we ended up going with Olsen in order to have more money to spend on defense.
That ultimately is the big takeaway from our roster. We have solid contributors on offense (Forte and Curtis Conway are a great combination, and Marty Booker is an underrated receiver in our eyes), but the 1985 Bears defense is truly one of a kind, and really makes this roster solid.
Our question now to you is this Bears fans: what does your all-time roster look like? Let us know in the comments below!