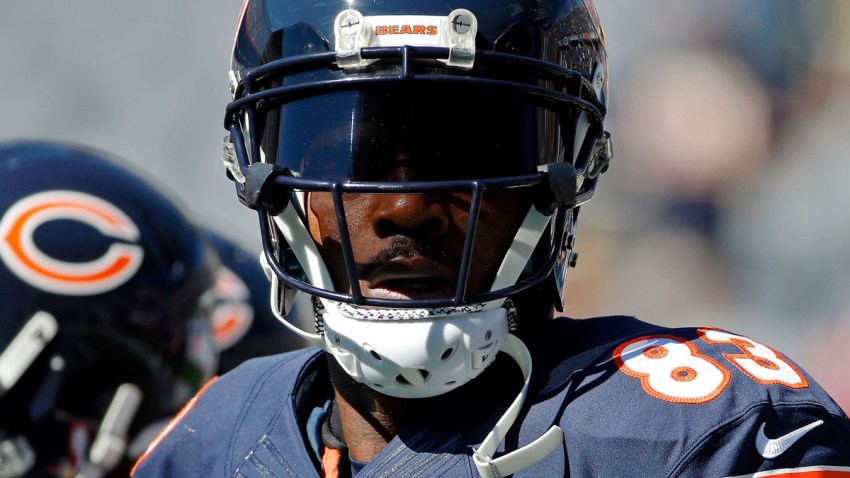 The Chicago Bears have already played two of the best teams in the NFL in the first two weeks of the season, but they'll have an even bigger test on their hands Sunday as they travel to Seattle to take on the Seahawks.
Not only are the Seahawks a tough team in spite of their 0-2 record, but they are also a very difficult team to beat at their raucous home stadium in the Pacific Northwest. Pre-snap adjustments are nearly impossible for offenses to make, and the team certainly feeds off the energy that their fans provide.
Nonetheless, the Bears will still go into the game looking to grab their first victory of the season, and they'll need big performances from these five players in order to do it.
Martellus Bennett
With Jay Cutler and Alshon Jeffery out of the lineup, the Bears' offense is going to look decidedly different, and Bennett will be a key contributor for Jimmy Clausen. His size makes him difficult to account for on the field, and the Bears will need his physical play in order to take on a ferocious Seattle defense.
Jimmy Clausen
Speaking of Clausen, he's going to have his hands full as he tries to win in his second start as a Bears quarterback. Seattle is excellent at defending the run, and with Jeffery out and questions about Clausen's skillset, they'll likely stack eight players in the box against the quarterback, and he'll have to make some throws to lessen the pressure.
Eddie Goldman
The Seattle running game is their bread and butter, and against a subpar offensive line, a guy like Goldman will have to put up a good performance to keep players like Russell Wilson and Marshawn Lynch (assuming he plays) at bay.
Pernell McPhee
Speaking of guys who need to take advantage of a questionable line, McPhee laid some great hits on Carson Palmer in the Bears' Week 2 loss to the Arizona Cardinals, and he'll have to be even better this week. The Bears have got to get a sustained pass rush going against the Seahawks, and McPhee will be a key to that as he looks to get his season headed in the right direction.
Matt Slauson
Everyone on the offensive line is going to need to step up against a tough Seattle front seven, and Slauson will be a key player. If the Bears can get good play from the left side of their line in the game, it could open up some holes for Forte to use, and it could ease the pressure that Clausen will be feeling to lead the offense into a tough environment.