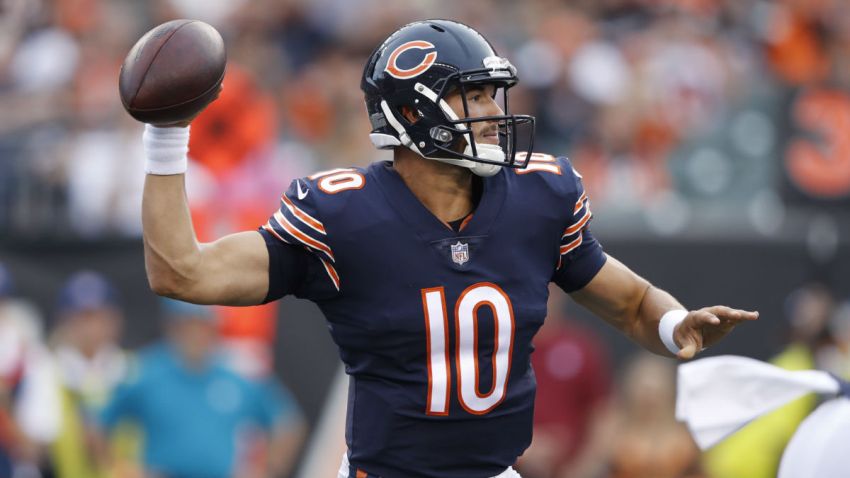 The Chicago Bears will be in the national spotlight again on Sunday night as they welcome the Los Angeles Rams to Soldier Field, and they will have an opportunity to make a big statement in the game.
The Bears, who are 8-4 after their loss to the New York Giants a week ago, can take a big step toward a division title if they can pull off an upset win over the NFL's best team, and the Rams will have a chance to lock up a first round bye if they can hand Chicago their second home loss of the campaign.
If the Bears want to win, here are Three Keys that could pave the way for an upset on the lakefront:
Keep Trubisky Upright
It seems entirely obvious that the Bears would need to make sure Mitchell Trubisky is able to have time in the pocket to work through his reads and running lanes, but weeks after suffering a shoulder injury, that factor has to be at the top of mind for the team's offensive line.
Letting Trubisky work and not have to worry about having his right shoulder landed on will be critical throughout the contest, and with Aaron Donald and the athletic Rams' pass rush coming after him, this will be the biggest test the Bears' offensive line will have all season.
Bears vs. Giants: Week 13 in Photos
More Targets for Cohen and Miller
With extra pressure coming on Trubisky, it's going to be imperative that he have some guys available to dump the ball off to, and that's where Tarik Cohen and Anthony Miller both come in.
Both players have the elusiveness to make defenders miss, and Cohen especially could pose a matchup problem for the Rams if he gets the ball in space. That is something the Bears will need to take advantage of, and if they can, it could be a long night for Los Angeles.
Consistent Pass Rush Throughout the Game
One of the biggest knocks on the Bears is that their pass rush, which is incredibly aggressive at the start of games, fades as the game wears on, and that simply cannot happen against a Rams team that has plenty of offensive weapons to choose from.
Goff is one of the league's most accurate passers when throwing down the field, and that's going to put a big strain on the Chicago secondary. The Rams quarterback has completed 70.8 percent of his passes thrown between 21 and 30 yards this season, and has five touchdowns and no interceptions at that distance.
A strong pass rush will be able to help with that, and will limit Goff to more short distance attempts, and while he is completing those at a high percentage as well (68.2 percent, to be exact), it will be less painful to allow short completions than to allow the variety of long passes that he's been able to hit on this season.