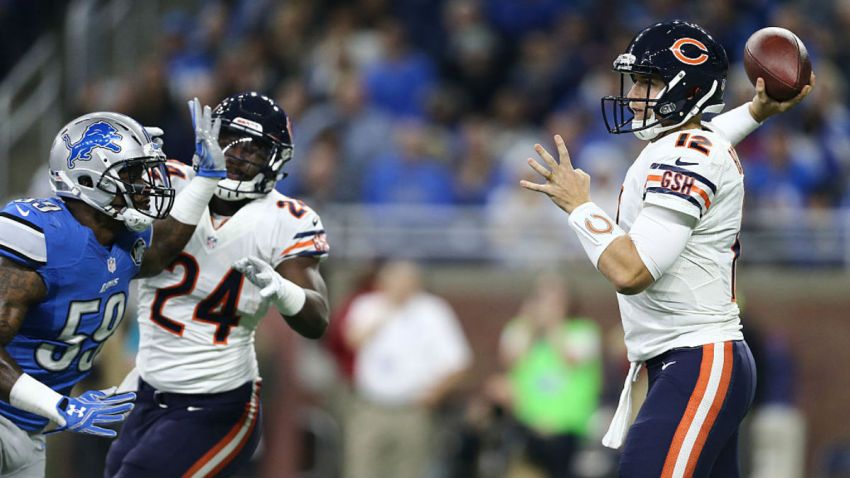 The Chicago Bears had a late lead against the Detroit Lions on Sunday, but unfortunately the team fell just short as a Matthew Stafford rushing touchdown handed a 20-17 victory to the division-leading Lions.
Even with the loss, there were still some positives that Bears fans can glean from the game, and all three are worth keeping an eye on as the season enters its final weeks.
Nickel Cornerbacks Make Big Plays vs. Tough Lions' Offense
When looking at the Bears' defense, the secondary is widely regarded as a serious weakness, and rightfully so. With players like Kyle Fuller out of the mix and safeties like Harold Jones-Quartey and Adrian Amos struggling at times, the group really doesn't have a dynamic playmaker, but a few guys showed some serious promise on Sunday.
One of those players was Bryce Callahan, who defended a pair of passes and even helped force an interception in the second half. On the play, Matthew Stafford was trying to throw a slant pass to Golden Tate in the end zone, but Callahan made a diving play to tip the ball, and after it bounced off Tate's facemask it ended up in the hands of Demontre Hurst for a critical turnover.
On the very next drive, another Bears' slot corner made a big play of his own. Cre'Von LeBlanc, an undrafted free agent that has already made a name for himself with the Bears, made a great read on a Stafford pass to Anquan Boldin, and after jumping the route he ran the ball back 24 yards for a touchdown and the Bears' first pick-six since 2014.
It's unclear whether Fuller or Tracy Porter will be back with the team next season, but LeBlanc and Callahan could be earning themselves spots as reserve corners on the team with their play.
Akiem Hicks Proving to be Unsung Hero of 2016 Free Agent Class
When the Bears made additions to the defense before the 2016 season, they nailed down some big names, as Jerrell Freeman and Danny Trevathan stole the headlines. Both players have looked good, but another player is poised to take their mantel as the team's most important acquisition of this offseason.
That player is Hicks, and over the last few games he has shown why he is one of the emerging stars among this team's front seven. Against the Lions, Hicks totaled six tackles, and he also was one of three Bears who sacked Stafford during a strong day for the defensive line. Hicks also defended a pass during the game, using his tall arms to bat down a ball on a third down play and force a Detroit punt.
The Bears will still likely be looking for another piece or two on the defensive line, with Eddie Goldman's continuing injury concerns and the rookie struggles of Jonathan Bullard, but Hicks has been a stalwart all season, and he showed his skills off again Sunday.
Jordan Howard's Progress Continues to Show
With injuries and suspensions decimating their receiving corps this season, the Bears have had to run the ball more often, but Howard doesn't seem to mind at all, and he reeled off some long gains in Sunday's loss.
Coming into the NFL, the expectation was that Howard would be the hammer and that Jeremy Langford would be the speed guy, but throughout the season it's become clear that Howard is more than just a blunt instrument. He showed that again on Sunday as he used his physicality to get into the open field and his speed to stay ahead of the Lions, picking up a pair of gains of 20 or more yards in the contest.
If there's one criticism to make of Dowell Loggains, it's that he hasn't used Howard enough. He only carried the ball 13 times on Sunday, and he rushed for 86 yards despite that limited work load. The total leaves him about 270 yards shy of Matt Forte's record for most rushing yards by a Bears rookie running back, and with two more games set to be played on the frozen tundra of Soldier Field, he could have a real chance of breaking that mark.