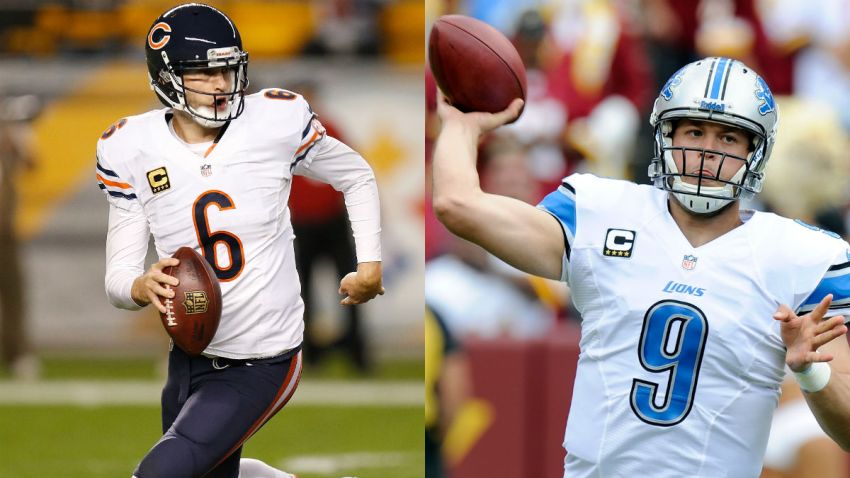 The Chicago Bears will travel to the Motor City this weekend as they try to run their record to 4-0 to start the year, but there is much more at stake than merely continuing their undefeated run.
If the Bears win this game, they will be guaranteed a two-game lead on the rest of the division just four games into the campaign, and they will also have an important tiebreaker over the Lions. If they were to lose, they would drop back into second place in the division, with the Lions holding the tiebreaker in the division.
It may seem premature to talk about those types of things, but as the Bears experienced last season, with 10 wins not being able to get them into the playoffs because the Vikings held a divisional record tiebreaker, every game against NFC North foes is vital.
With that in mind, here are our five keys to a Bears victory on Sunday.
Keep Suh in Check
We discussed this facet of the game at length on Thursday, but it bears repeating in this conversation. The talented Ndamukong Suh may not be having the best season of his career, with only eight tackles and zero sacks through three games (and being $100,000 lighter in his wallet after a Week 1 fine), but he is always a dangerous player for an offensive line to go up against, and the Bears have to figure out a way to stop him.
In addition to Jordan Mills and Kyle Long having to step up their games, the Bears would also be wise to have QB Jay Cutler continue to get rid of the ball quickly. A hallmark of the Bears' game this season has been quick slant routes over the middle of the field, which they used to perfection in
situations like their first drive against the Steelers last Sunday, when Cutler and Alshon Jeffrey hooked up repeatedly on that play.
If the Bears can minimize the pressure on their line by getting rid of the ball quickly and varying their playcalling by mixing in runs, then they should be able to keep Suh in check.
Secondary Must Stand Strong Despite Burleson Absence
Even with Nate Burleson out of the Lions' lineup for the foreseeable future with a broken arm, the Lions' passing game is still a potent force. Matthew Stafford is averaging 336 yards a game through the air, which is good for second in the league, and he has hit 11 different receivers with passes in just three games.
Aside from stopping Calvin Johnson (a "duh strategy" if there ever was one), the Bears also have to keep TE Brandon Pettigrew in check, and also have to keep both Reggie Bush and Joique Bell from getting too many open looks over the middle of the field. That will likely mean having a linebacker like Lance Briggs or James Anderson shadow the backs over the middle of the field,
but both have shown an ability to do that this season.
The real question then is what to do with Major Wright. Should he help out over the top on Johnson, or should he help the linebackers on the Lions' variety of passing targets over the middle? It will be interesting to see what Mel Tucker decides to do with his free safety, because if he makes the wrong call, then it's going to be a long afternoon for a defense that gave up over 400 yards passing last week.
The Bears Must Contain Reggie Bush and Joique Bell
In addition to keeping the duo of Lions' running backs in check in the passing game, the Bears are also going to have to try to hold the Detroit running game down.
The Lions haven't been rushing the ball very well this season, but the Bears do have some issues in their run defense with defensive tackle Henry Melton out for the season with a torn ACL. That means that Nate Collins will have to fill in at that position, and getting him up to speed might mean an extra workload for DT Stephen Paea, who has been the team's primary run stopper all year.
If Paea and Collins can't do the job, then it's going to be up to DJ Williams and Briggs to help plug the gaps, and with Bush's speed out of the backfield, they are going to have to make sure that he doesn't get around them, or he could reel off some big time runs.
Cutler and Company Must Spread the Ball Around
As we alluded to earlier, the Lions are a great team when it comes to spreading the ball around on offense, hitting 11 different receivers already this season.
In the case of the Bears, however, things are much more limited. Cutler has only hit five different receivers with passes this season, and even though his three big fourth quarter touchdown passes have all been to different receivers (Brandon Marshall in Week 1, Martellus Bennett in Week 2, and Earl Bennett in Week 3), he still has a tendency to target one receiver at a given time.
He needs to get over that not just for success against the Lions, but also to get the most out of Marc Trestman's offensive game plan.
Bears Must Get Pressure on Stafford
Oh, you thought we'd get through an entire article of "keys" without mentioning the Bears' anemic pass rush? Well, you thought wrong.
The Bears did do a better job in Week 3 of getting pressure on Ben Roethlisberger, but a large part of that had to do with the increased emphasis on using linebackers in blitz packages. Williams, Anderson, and Briggs all made plays in the Steelers' backfield during the game, but even though Julius Peppers did do a better job of getting around on the edge on pass rushing plays, the Bears' front four still was largely ineffective in getting pressure on the quarterback.
Getting in Stafford's face is going to be a key for the Bears, because he has been hugely disciplined with the ball so far this season. In 121 passing attempts, Stafford has only thrown two interceptions and has only been sacked two times in three games.
He is completing nearly 64% of his passes and has thrown six touchdowns to boot. With the Bears' linebackers likely helping out more in pass coverage with the variety of targets that Stafford can look to, it's going to be imperative for Peppers, Corey Wootten, and Shea McClellin to get into the backfield and force Stafford into bad decisions. If they can't, then it's going to amplify the pressure on the Bears' secondary to keep all areas of the field covered, and against a talented offense like the Lions possess, that is a challenge that is nearly impossible to win.