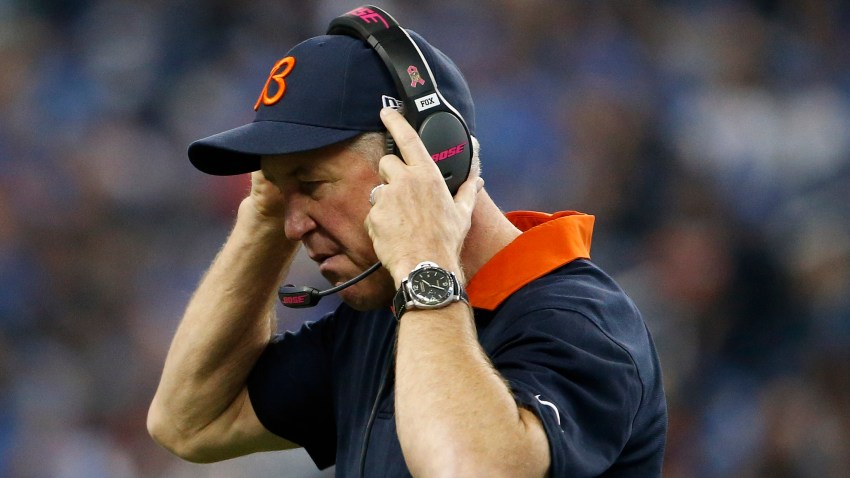 The Chicago Bears are going to be shorthanded as they take on the San Diego Chargers on Monday night, but the team still has plenty to hang its hat on as they prepare for the primetime battle.
After all, quarterback Jay Cutler has been rolling as of late, showing some great poise in the pocket and patience with Adam Gase's playcalling. His throws have been precise as well, meaning that the Bears' offense, though not great statistically, has at least been more effective than it was earlier in the season.
So how does the Bears' offense compare to San Diego's? To help break that down, we'll take a look at what each team brings to the table at four key positions on the field: quarterback, running back, wide receiver, and the offensive line.
Quarterback:
Cutler's efficiency has been on full display since he returned from an injury that kept him out of the team's Week 3 game against the Seattle Seahawks. Since that contest, Cutler is completing nearly 63 percent of his passes, throwing six touchdowns and just two interceptions in the four games since.
Despite that level of success, Cutler has been thoroughly outperformed by Philip Rivers this season. The Chargers' quarterback leads the NFL with 2753 passing yards this season, and he's completing nearly 70 percent of his pass attempts.
Even in the midst of his team's losing streak, Rivers has still been solid. In their 29-26 loss to the Baltimore Ravens in Week 8, Rivers threw for 301 yards and three touchdowns in the losing effort.
Running Back:
The Bears are going to be dealing with a significant loss in their backfield as Matt Forte misses the game with a knee injury, and Jeremy Langford is obviously an unknown commodity for the team. He has shown flashes of brilliance so far this season, able to catch the ball out of the backfield and run for gains outside of the tackles, but he also is still a raw rookie without many carries under his belt, so it will be interesting to see how he adjusts to the new expectations.
Meanwhile, the Chargers attack the rushing game with numerous, albeit relatively unsuccessful, approaches. They generally run the ball with rookie Melvin Gordon, who has rushed for 382 yards this season, but they can also deploy Danny Woodhead as well. The shifty back is known for his ability to catch passes out of the backfield, meaning that the Bears' linebackers will have to keep a sharp eye on him as Rivers scans the field for options Monday night.
Wide Receiver:
While the Bears are dealing with injury issues at the receiver position, with Eddie Royal unavailable for Monday's game as he copes with a knee issue, the Chargers will be even more short-handed as they attempt to replace Keenan Allen. Allen racked up 725 receiving yards and four touchdowns this season before a lacerated kidney ended his season, and his absence will put a ton of pressure on Malcolm Floyd and Stevie Johnson.
The Chargers will also adjust to life after Allen by relying even more on Antonio Gates in the passing game. With Ladarius Green out, the Chargers won't have their talented duo on the field, but Gates can certainly pick up the slack.
As for Chicago, they'll cope with the absences of Forte and Royal by relying even more heavily on their primary weapons. Alshon Jeffery looked excellent in Week 8 against the Minnesota Vikings, hauling in 10 receptions for 116 yards and a touchdown. Martellus Bennett will also be an important component of Chicago's offense, as his size is hard to contend with over the middle of the field and could pose matchup issues for San Diego's safeties.
Offensive Line:
The Bears are going through some serious turmoil on their offensive line, with center Hroniss Grasu likely out for the second consecutive game with a neck injury and Jermon Bushrod continuing to battle a shoulder issue.
Despite those obstacles, the Bears' offensive line has still looked pretty good recently, with Kyle Long settling in nicely at his right tackle spot and Charles Leno Jr. making a strong case to stick at left tackle even when Bushrod is healthy. Add to that the serviceable job that Matt Slauson is doing at center, and the Bears are making things work.
As for the Chargers, they are dealing with injuries on their line as well. Center Chris Watt will miss the game with a shoulder injury, and left guard Orlando Franklin didn't practice all week and is listed as doubtful with a knee ailment. Those injuries could give players like Pernell McPhee and Jarvis Jenkins some opportunities to get to Rivers, and that could be critical in disrupting his timing.