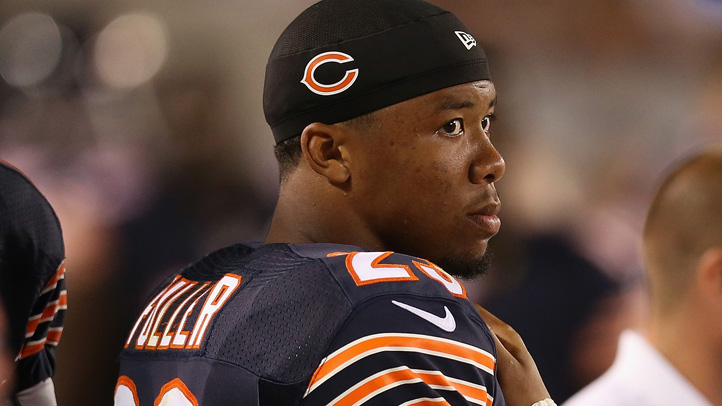 The Chicago Bears are looking for their third win of the season as they take on the San Diego Chargers on Monday night, and we have five key players to watch as they look for another win against an AFC West foe.
Kyle Fuller
The Chargers are going to be without their top wide receiver, as Keenan Allen has been placed on injured reserve with a lacerated kidney, but that still doesn't mean that Fuller is out of the woods yet. San Diego still has a couple of solid wide receivers for Philip Rivers to throw to, including Malcom Floyd and Stevie Johnson.
Those challenges will be tough for Fuller to face as he comes off a week where he hit the highest of highs (a key interception against Teddy Bridgewater) and the lowest of lows (burned for a long gain by Stefon Diggs). He consistently plays the receiver more than the ball, and even though this does occasionally prevent big plays, it more often results in pass interference penalties as he makes contact with the receiver without finding the ball.
If the Bears are going to beat San Diego, Fuller has to do a better job of playing his position. That's a big ask for a guy who's been in the league for a year and a half, but in this season of transition for the Bears, Fuller has to be able to show that he's going to be part of this team's future.
Alshon Jeffery
There are a couple of blatantly obvious selections for this list, and Jeffery is one of them. After all, the Bears are going to be without the services of Matt Forte and Eddie Royal in the game, and that means that Jeffery is likely going to take on an even bigger role in this game as the catalyst for the Bears' offense.
If his performance last week is any indication, Jeffery is up to the challenge. He looks to be fully healed from the calf issue that was hampering him earlier this year, as his ability to go up and get the ball has returned, and his speed has helped him create some separation from corners in ways he wasn't capable of doing earlier in the year.
Those will be critical skills as the Bears hit the field, playing against a Chargers team that is dealing with a banged-up secondary. Jeffery will likely draw double coverage in the game, but he has the ability to overcome that.
Jarvis Jenkins
Jenkins has already set a career high in sacks this season with three and a half, but he hasn't been able to get consistent pressure on the quarterback in recent weeks, registering only one half sack in his last three games for the Bears.
With the Chargers already playing without starting center Chris Watt and likely playing without left guard Orlando Franklin, that could open up some lanes for Jenkins to get to the quarterback. With Rivers' ability to pick apart defenses, Jenkins could really help the secondary a lot by putting pressure on the Chargers' signal-caller, and that will mean stepping his game up in a big way on Monday night.
Jeremy Langford
The other "duh, of course" member of this list is Langford, who will be making his first career start for the Bears on Monday night. Langford has seen sporadic action so far this season, with 27 carries for 80 yards and two touchdowns thus far, but he has not seen the type of prolonged exposure and pressure he will face against the Chargers.
Fortunately for him, the Chargers are downright awful against the run. giving up 124.6 yards per game on the ground. That mark is one of the worst in the NFL, but it could open up a huge opportunity not only for Langford to get traction in his first start, but also for the Bears to keep Rivers and company off the field and dominate time of possession in the game.
Marc Mariani
After years of being spoiled by Devin Hester, Bears fans are understandably annoyed with Mariani's performance as a kick returner. In seven games so far this season, Mariani is averaging 7.5 yards per punt return, and while he is averaging 25.8 yards per kickoff return, his long this season is just 38 yards.
Those numbers aren't going to get the Bears very good field position on a consistent basis, and with the team already missing two of its most important offensive components, they need all the help they can get when it comes to helping out their scoring attack. Mariani has to do a better job of finding seams, and the return teams have to do a better job of blocking for him if they are going to give a hand to Jay Cutler and company.