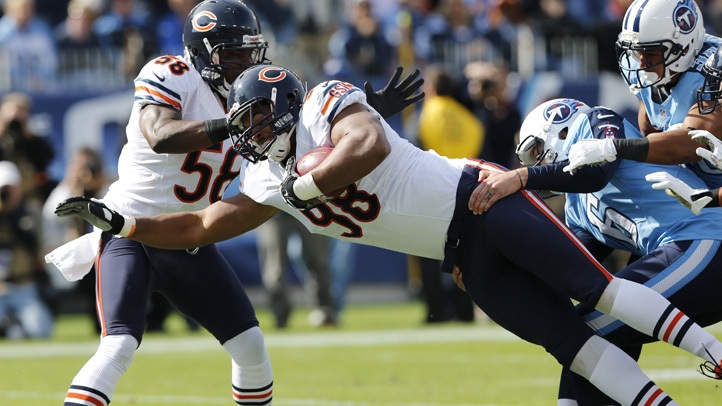 The Bears offense may be new, but the defense should look familiar on Sunday against Cincinnati, with nine starters returning on a line that was ranked fifth overall in 2012.

Newcomer middle linebacker D.J. Williams said he's been impressed since day one.

"I think this defense communicates better than any defense I've been a part of," Williams said, "and on top of that we do have a lot of veteran leaders. Everyone works, nobody takes a play off and everybody hustles to the ball."

Pro Bowl cornerback Tim Jennings, who teamed with Charles Tillman in the defensive backfield to become the third-best scoring defense and lead the league with 44 takeaways, agreed hustling to the ball will continue.

"As you've seen in preseason, it's been a success for us," Jennings said. "We didn't really change a whole lot."

Defensive coordinator Mel Tucker didn't fix what isn't broken, keeping the same terminology and same defensive sets, though maybe just using the blitz a bit more. Above all else, he is keeping it simple and relying on the athletic personnel to make plays.

"We really do harp on them [for] execution and do your job," Tucker explained. "It's a lot about what we do. The other team has good players, so at the end of the day you have to win one-on-one too."

Pro Bowl defensive end Julius Peppers said he won't click on the video to watch Bengals quarterback Andy Dalton's tendencies. It's all about the Bear defenders instilling their will, he said.

"We don't necessarily do a lot of calls with their plays on it because we don't study them," Peppers said. "We study ourselves and we read our keys."

No disrespect to the Bengals, or the Vikings, or the Lions, or any of the Bears opponents this year, but the Chicago defense would rather you react to them. It shows all the way up the chain.

Head coach Marc Trestman rarely works off of "play cards" with opponents' plays on them in practice.

"We certainly respect the team that we are playing and we know there are good players on both sides of the ball," Trestman said. "We have systems where we can run our plays, and they have to react, it's more game-like."

The Bears will try to instill their will once again behind Pro Bowlers Peppers, Melton, Briggs, Tillman and Jennings starting Sunday.