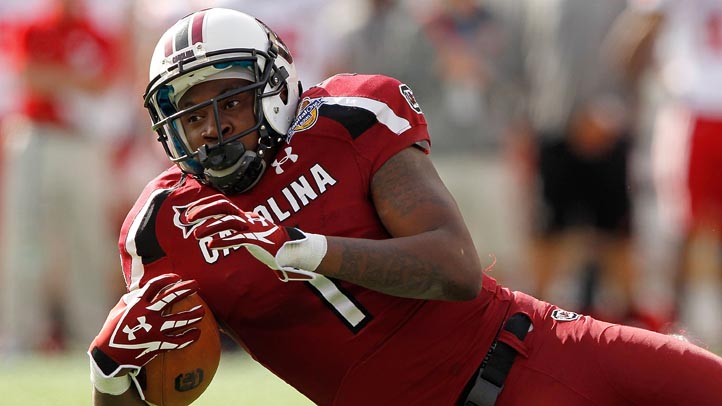 Though mini-camp for rookies doesn't start until this weekend for the new Bears, second-round draft pick Alshon Jeffery is already hard at work with Bears coaches. Since he was drafted, Jeffery has been in contact receivers coach Darryl Drake.

Drake told the Chicago Bears website that he and Jeffery have talked on the phone several times. Since Jeffery will be expected to make an immediate impact on a receiving corps packed with veterans, he needs to start learning now.

"It takes years to understand and learn coverages. In college you have so many spread offenses and things like that, and even defenses are a little different. They're so non-traditional guys don't get a chance to really learn. It's going to take time. We're going to take it one step at a time."

Jeffery has plenty of learn. While the Bears were impressed with his raw talent, he spent his last year in South Carolina held back by a turbulent quarterback situation. His production dropped as the Gamecocks struggled to find the right passer.

In Chicago, he'll find a quarterback with a secured spot and high expectations. Jay Cutler is not afraid to let receivers know when they mess up on a route. Jeffery will need to be ready for that environment.

That's why it's so important for Jeffery to learn from Drake now. The more he learns before going deep for a Cutler pass, the better.
Copyright FREEL - NBC Local Media